Robbery spree covers three counties
A masked man has captured the attention of police, not just because of the number of armed robberies he has committed - 15 so far, all in the past month - but the unusual geographical breadth of his hits.
He has covered eight police jurisdictions in three counties, hitting gas stations and liquor stores near freeways and highways in the greater Milwaukee area. And he's not working alone; after the robberies, he jumps into the passenger seat of a getaway vehicle.
"What is kind of unique here is the fact that it's spread out in such a wide range of jurisdictions, from Ozaukee to Waukesha County, Milwaukee County," Milwaukee police Lt. Kenneth Grams said Monday. "So that's fairly . . . I'm not going to say unique, but that's not real common."
The man started his armed robbery spree just before 10 p.m. Aug. 18 at the S&M Petro Mart on Stevenson St. in Milwaukee.
Since then, the man has committed 14 more nighttime robberies, police said. All the stores are within a mile of major highways, and all the robberies except one occurred between 8 and 11 p.m. Three of the robberies were repeats at stores he previously had hit, Grams said.
"He's committing one offense and if he's really not getting what he wants in terms of money, he's going to a different location," Grams said.
Usman Javaid was working as a clerk at the S&M Petro Mart store along with owner Mian Shahnawaz when the armed robber hit the store for the second time, on Sept. 7 at 9:45 p.m. This time, the owner was ready with a baseball bat.
"Everything just happened in two or three seconds, so quick," Javaid recalled. "I was doing paperwork and the owner was behind me. He (the robber) came, he had the mask on. He said, 'Give me the money.' The owner said to the robber, 'Hold on, do nothing, he will give you the money.' (The owner) grabbed the bat and he saw (the robber) grabbing the gun. Then he ran. The owner chased him."
The clerk said he heard what sounded like one gunshot outside.
The gunman had fired one round at Shahnawaz, who saw the man enter the passenger door of a waiting getaway vehicle, Grams said.
Police said the suspect sometimes becomes very agitated as he asks for money and has forced employees to the ground. Police are concerned that the man's reactions will escalate.
"Use extreme caution," Grams warned. "This is a real firearm. We know that because on at least one occasion he discharged the revolver. So we want to use caution for the citizen witnesses who may observe future events."
Police have promised a "substantial reward" for information.
According to Grams:
At each robbery, the suspect has worn a full-face ski mask, usually black. He has asked for money as he displays a gun in his right hand, typically a black steel handgun or a silver revolver. If the man gets no money, he demands cigarettes. He may be a drug or alcohol user.
He is described as white, 20 to 25 years old, 5 feet 6 to 5 feet 7, 140 pounds, with blond hair and blue eyes. He usually wears a hooded sweatshirt that's either dark in color, or marked "Green Bay Packers." He usually wears blue jeans with white tennis shoes and sometimes gloves and a baseball cap. At the S&M Petro Mart robbery, he wore a light green and white baseball cap with a logo and red bandanna covering his neck.
He has been seen getting into the passenger side of a dark or burgundy four-door vehicle, possibly a 1990s Chevy Caprice or another "boxy" vehicle or dark-colored pickup truck with a cap.
Because of the robberies, police are keeping a closer eye on gas stations and convenience stores, Grams said.
As for Javaid, he said he's not afraid that the robber will come back.
"He can, but what's he going to do? Shoot me, or he could just grab the money. Nothing else he's going to do," he said. "One day I'm going to die, right? So it doesn't really matter."
Police are asking anyone with information to call Milwaukee police at (414) 935-7411 or (414) 935-7360 or their local police department. Grams said police are particularly interested in obtaining the license plate number on the suspect's vehicle.
Milwaukee Homicides Database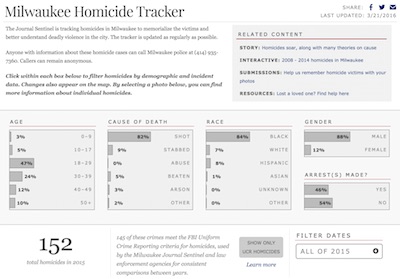 Search homicides in the city of Milwaukee by location, age, race, gender and date.