Milwaukee man charged with stalking Tosa woman
Harassment over 9 months alleged
A 34-year-old Milwaukee man has been charged with felony stalking and other charges related to domestic abuse on accusations he stalked his ex-girlfriend in Wauwatosa for more than nine months.
The Wauwatosa woman told police she had dated Jacquay Armand Holman, 33, for seven years before breaking up with him in October 2010.
She said she started having problems with him after she began dating another man in February.
According to a criminal complaint released Monday:
In May, Holman came into the victim's house and stood over her and her new boyfriend while they were sleeping.
Over the following months, Holman sent her as many as 100 text messages and called her more than 20 times in a day, followed her everywhere, peeped through her windows, slashed her tires three times, stole her mail and tried to run her car off the road.
The victim changed her phone number three times to get away from Holman, but to no avail.
Over the summer, he argued with her in a public park while holding a gun. On Nov. 15, he punched her in the face and kicked her in the back. He also threatened to kill her and himself if she did not get back together with him.
The victim's neighbors said they often saw Holman parked in the neighborhood, and they were afraid to let their children play outside out of fear for their safety. The neighbors complained to police about Holman at least nine times.
The victim, who has three children, one of them a 3-year-old girl with Holman, told investigators she rarely goes anywhere anymore because she's afraid. The victim's 13-year-old son said Holman threatened him over the phone, indicating he'd shoot him if he walked outside the house.
The victim filed for her first restraining order against Holman in July, but sheriff's deputies were unable to locate him and serve him with the order.
In the fall, she obtained three temporary restraining orders against him.
When Wauwatosa police responded to a battery complaint and arrested Holman on Nov. 19, his cellphone revealed he sent had 866 text messages to the victim over a three-month period, mostly with Scriptures from the Bible.
Holman was charged Friday with three counts of domestic abuse - stalking, disorderly conduct with use of a dangerous weapon and misdemeanor battery - and is facing up to five years in prison and $21,000 in fines.
Milwaukee Homicides Database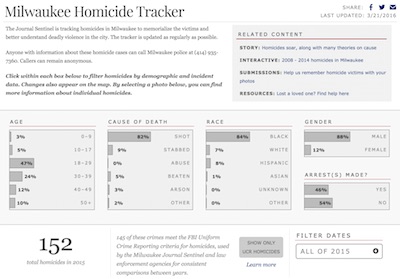 Search homicides in the city of Milwaukee by location, age, race, gender and date.