New Berlin West football storms Wauwatosa West
Vikings rushed for more than 200 yards in second half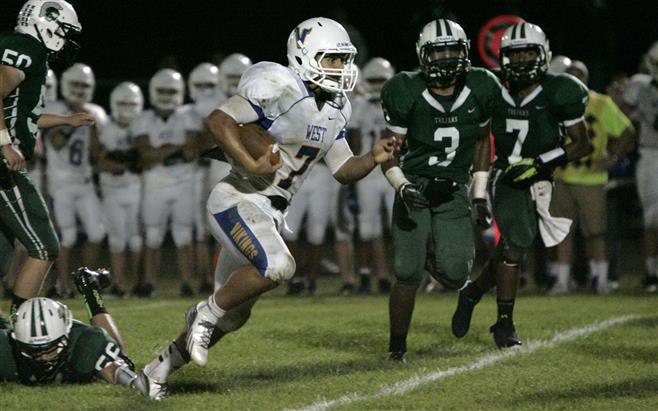 Thunder, thunder, thunder and then, a dash of lightning.
New Berlin West used a steady diet of bruising runner Bryan Watson to help the Vikings achieve greater than 200 yards rushing in the second half, but it was Travis McKeon who took an inside give on a fourth-and-1 play from the Vikings' own 35. With 2:06 to play, following the 1-2 punch formula that had benefited it all game, New Berlin West got the necessary yardage and sealed a 28-20 victory over Wauwatosa West on Friday.
Big Woodland win
McKeon, playing in his first game of the year after a concussion kept him out for the Vikings' difficult nonconference schedule, racked up 83 all-purpose yards and scored three touchdowns as his team rallied for 21 unanswered points to secure a huge Woodland Conference victory.
"I have five senior offensive linemen and two senior running backs," New Berlin West coach Al Moroder said about the gutsy fourth-down call. "We had 10 seniors on the ball. We talked to these kids about how if you want something, you've got to go get it. That was a metaphor for what they need to know. You have to go take it, and that's what they did."
The Vikings (1-2) reaped the benefits of the grueling nonconference slate against Grafton and Waukesha West, opening with a must-have victory in a loaded West Division of the Woodland.
"A lot of people said, 'What are you doing?'" Moroder said of the nonconference slate. "To me, if you want to be up there, you have to compete. Look at the whole Woodland West. Greendale put up Cedarburg and Franklin. Pewaukee put up Waterford and Wisconsin Lutheran. We have to go. The conference is changing, and it's changing in a very good way. It's fun to be a part of."
Tosa West (2-1), coming off back-to-back 54-0 wins over Wauwatosa East and Milwaukee Vincent, seized control of the game in the first half when it scored two touchdowns in 13 seconds. Roberthenry Davis blocked a punt and fell on it in the end zone to tie the score at 7-7, and after New Berlin West fumbled the kickoff, quarterback Jared Morzinski found Zach Veit for a 25-yard score and a 14-0 lead.
Vikings fight back
After Tosa West scored again to make it 20-7 on a 35-yard pass to Jameson Brock, the Vikings opened a drive on their own 27 with 4:08 to go in the half and finished with a 7-yard touchdown run by quarterback Johnathan Kozlowski with 15 seconds on the clock.
"I think it was a big deal for them going in (to halftime)," Tosa West coach Matt Good said. "We had them on a long third down, and they came back and were able to convert on a big play."
On the first series of the second half, New Berlin West grabbed the lead when McKeon took a screen pass 34 yards to the house. McKeon added a 20-yard run later in the quarter for a 28-20 edge that held for the remainder of the night.
"We had great blocking everywhere on the field," said Watson, who finished with 210 yards. "It was a heck of a play by Travis McKeon broke a lot of tackles and made something out of nothing."
Watson ran for 157 of those yards in the second half, frequently carrying tacklers with him for positive yardage.
"The training that we put in at our three-day camp at Carroll (University) definitely worked us to the limit," Watson said. "That heat too, 90-degree weather, definitely pushed us."
Injuries for Tosa West
Tosa West was besieged by injuries all night, including several cases of leg cramps. The biggest blow came in the middle, where nose tackle Christian Morzinski was limited by injury.
"That had a lot to do with our interior," Good said. "He's a big part of the game plan. Anytime the biggest, strongest player is out, it's difficult.
"I just think our kids lost some focus and lost some responsibility. Our tackling was probably as poor as we've seen it in a long time."
In a slow-moving game that lasted three hours, West was able to chew half of the 12 minutes off the fourth-quarter clock. Tosa West got as close as a fourth-and-10 on the Vikings' 23-yard line, which netted 8 yards and handed the ball back on downs. Watson accumulated 25 yards over the next five snaps, followed by the fourth-down give to McKeon.
"The injuries have been hard and I was just hoping to step up and lead our team to victory," McKeon said for a team also missing starting quarterback Dylan Wiese among others. "Our coaches are huge on conditioning and stuff like that. That was a plus for us. They had six kids going both ways and we had two, so that was a huge advantage for us."
Said Moroder, "'Watty' is our tough runner, he's going to finish the game off when we need to. Travis is our lightning."