Watertown Plank/Highway 45 Interchange to close Monday for 2014
The Watertown Plank/Highway 45 Interchange will close by Monday morning, along with the portion of Watertown Plank Road running beneath the highway between Swan Blvd. and Discovery Parkway.
The closures will last for the remainder of 2014, said Jason Roselle, a project manager at the state Department of Transportation.
One off-ramp will remain open on Highway 45 southbound, to allow drivers to exit west on Watertown Plank Road and reach Highway 100. Northbound travelers should take the Wisconsin Ave. exit. The North Ave. exit is another option for travelers on Highway 45 in both directions.
"Prepare to take an alternate route to your destination and add extra time to your commute to make sure you get there on time," Roselle said. "It will take longer to get to some of the areas because of the new traffic configurations."
Mobile Traffic Updates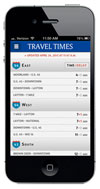 Check travel times on your smart phone with our mobile traffic report. Just go to your phone's browser, type in the web address mjstraffic.com and add the icon to your phone's home screen.
You can also access traffic information on your desktop, tablet or mobile device by going to jsonline.com/traffic.