Tosa high schools unite in fight against cancer
West, East raise funds at crosstown basketball game, donate hair to Locks of Love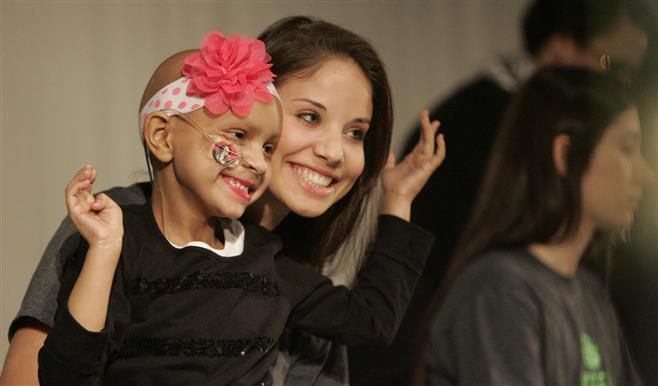 From an afternoon of basketball games to getting their hair cut for a cause, Wauwatosa students led the charge against cancer in two events that brought together students from both East and West: Locks of Love, which took place Friday, and the Coaches vs. Cancer basketball event, which took place Saturday. Both events were hosted at Wauwatosa West High School.
A chop for charity
The Locks of Love event, organized by West junior Laura Carlson, senior Maggie Boyle and freshman Emily Katula, had roughly 50 students each donate at least 10 inches of their hair to cancer patients.
The hair might not directly help rid the patients of cancer, but it gives them something everyone needs in a battle: confidence. The hair will be made into wigs for those going through chemotherapy.
The Locks of Love event is in its sixth year and has been student-run since its inception by Laura Engel, who has since graduated from West.
Carlson remembers sitting with her friends at last year's event, getting their hair cut by Paul Mitchell beauty school students. This year she picked up the trimming tradition and was a key organizer of the event.
"It makes me feel good to contribute to our school and allow kids to pay back to the community," she said. "It's good to donate hair to those who actually need it."
She and the other organizers not only showed up to school at 7 a.m. to make preparations possible, but they filmed a video showing students why donating their hair was important.
The video featured a woman who lost her hair to cancer, a father with a brain tumor and a 5-year-old child who has cancer. In the video the woman explained that losing her hair was akin to losing a part of her beauty. She recollected how chunks would fall out at once and how knowing that students donated their hair changed her, giving her courage.
Not only did Carlson and crew set up the video, but they worked to change the bell times, set a date for the event, call and organize Paul Mitchell students with school administrators and provide all the materials, including rubber bands and T-shirts.
"We always want to teach our students to be good citizens," Principle Frank Calarco said. "This event has filled that void of giving back to the greater good."
Whiting out cancer
While Wauwatosa East and West battled each other on the basketball court, they found themselves united in the battle against cancer.
The theme for the Coaches vs. Cancer event was to "white out" cancer by selling and wearing white shirts.
Cancer has touched the lives of many, but hit especially hard for Wauwatosa high school basketball. Former West coach Mike Landisch died from kidney cancer Sept. 25, 2011. Landisch also played for East's basketball team when he was in high school.
"When I learned about Mike's battle with cancer and how he fought it, there is a bigger message there for kids to be thinking about what it takes," Wauwatosa East Coach Tim Arndorfer said. "I think the community is really trying to rally behind his name and keep his memory alive, continuing the fight against cancer."
Arndorfer remembers Landisch as a fiery competitor who put his struggle with cancer on the back burner, focusing on being a father and teacher first.
Both teams worked feverishly to sell the shirts during lunch. When all was said and done, they sold every shirt they ordered, a total of 270. The shirts were sold at a $5 profit, which was then given to the Wauwatosa Relay for Life.
Students were busy raising money during halftime as well. They ran around bleachers with buckets asking for donations from the crowd and raised $425. That, coupled with the money from the shirts, totaled to over $1,775 raised.
Wauwatosa West coach Chad Stelse said this event wasn't just about his friend and colleague Landisch, but about all the survivors and loved ones who will be missed.
"This game gives us an opportunity to remind some of our players and the kids at school who might be dealing with someone struggling with a cancer fight that there is a lot of support out there," Arndorfer said.
By the Numbers
Over $1,775
raised to fight cancer
Over 500
inches of hair donated
2
schools united in the battle against cancer