Wauwatosa East students bid farewell to theater director
Tom Thaney's contract will not be renewed this year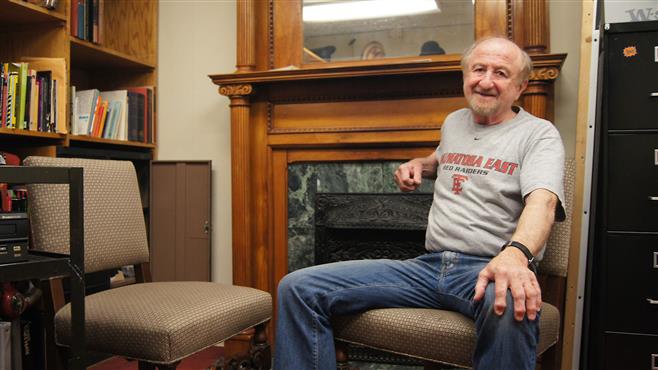 After 50 years of directing high school musicals and 16 years of involvement at Wauwatosa East High School, Theater Director Tom Thaney is taking his final bow.
Thaney's contract was not renewed by the school, effectively ending his career. The district did not give a reason as to why they decided to end his contract, citing district policy on employee confidentiality. Teacher Kate Sarner will replace Thaney next year.
Thaney could have retired years ago, but the students kept him coming back for the next show.
He said he believes there's an actor in everyone and that he stayed on board to help connect students with their passions and push them to be the best actors they possibly could.
The first show he directed was "Cowboy on the Moon" when he was interning at West Covina, California in 1962. He said from then on he felt that it was his calling to teach students the dramatic arts.
His career took him from California to Illinois and, after receiving his Master's in education from UW-Whitewater, to Elmbrook schools, where he began teaching in 1975. He began teaching speech and theater at Brookfield Central High School in 1988 and moved to Wauwatosa in 1997, replacing Dale Hidde.
Thaney said he learned much throughout his career, but what was most rewarding was connecting students to their passions by giving them space but pushing them to succeed.
"I continually relearn that every year, every show, every time I audition," he said. "These kids come pouring down here at the end of the day. The secret to life is finding your passion. If I can help connect that feeling with these guys, it's so rewarding."
He said the decision to let him go blindsided him, leaving him dumbfounded. He added that nowhere along the route was he confronted with the possibility of termination and hadn't seen any real change in students or parents behavior over the last 50 years. He said he was told the theater was going in a new direction.
When the programs were created for "Hairspary," Thaney listed every show he had worked on and said he thought thought it was an eerie foreshadowing.
While he wasn't prepared to go, he said that "Hairspray" was one of the greatest performances he was a part of. The show won him two Tommy awards: one for direction and the other for scenic design.
Students speak on Thaney
Evan Mayer, 2009 graduate: ""He's the most influential person in my career. His support and encouragement throughout the years has kept me going. It's great to know that someone cares about his students so much and I truly believe that his legacy is going to live on in the kids that he taught and the actors he helped get where they are. He's an awesome guy."
Mayer, although involved in plays throughout his entire high school career, graduated valedictorian and was slated to go to UW-Madison for a business degree. He changed paths, however, while acting in "Little Shop of Horrors" during his senior year. He dropped his plans for Madison and instead went to Indiana University for dramatic acting.
Ian Reid, Senior: "I think a lot of the legacy that he'll leave behind is the quality of the theater that the students expect in themselves," senior Ian Reid said. "So when he leaves I don't think any of that quality will be lost because the students can support themselves because of the training that they've had and I think his direction has helped us all become better at what we do."
Reid plans to go to Bennington college in Vermont for theater and anthropology.
Chris Adams, Junior: "I saw my first show here when I was in eighth grade and when I saw that I was blown away. When I came into high school I tried out for the show and Mr. Thaney has a weird way of taking things that you don't think are going to work and making them work. That's how I see it. I look at it from our point of view and somehow at the end, he pulled it all together and next year without him being there I don't know how theater is going to go, but I'm going to stay open minded."
Adams is a member of the football team as well and wants to bring a friend from the team to theater next year.
Holly Wilinski, 2011 graduate: "The best thing about this is that he really created a program that gets you ready for what's afterward. I've done two projects, one at the college level and one as community theater and it really shows you that this is what you need to do. He gives you some guidance and he lets you learn and take a good deal of responsibility."
Wilinski is involved in Madison's theater and does community theater projects.
Rose Hayes-Dineen, senior: "I think a huge part of this theater is the tradition and Mr. Thaney has kept that going and we have a very big community here. He's taught me so much in the time that I've been here. I've been an actor, dancer, singer. It's been a learning experience and it's led me to what I want to do. It's a home away from home and it really helps you build relationships and understand how other people feel and work."
Hayes-Dineen will be moving to NY to minor in performing arts.
Jonah Robison, junior: "Even though we are sad to see Mr. Thaney leaving, we have the benefit of seeing Ms. Sarner being here for a year now and even if she wasn't in the position as director, she played a large role in choreography and did some vocal stuff for 'Hairspray.' Even if that wasn't in the role she'll be filling, she'll be experiencing the attitude for what we're doing and what to expect."
Robison worked on the technical crew for "Hairspray"
New director takes the stage
Sarner is slated to take over the theater director position. She started working as a teacher at East this year and went to UWM for her undergraduate. She is now working on her master's.
Sarner had one foot in the East theater door before Thaney was let go. She taught the Behind-the-Scenes class at East and the Advanced Communication in the Theater Setting (ACTS) class, directing the first-ever play, "A Midsummer Night's Dream" at the Rotary Performance Pavilion on June 6.
She's no rookie to theater work outside of Wauwatosa, either. She's worked with the Manhattan Movement and Art Center in New York, co-directed at Catholic Memorial High School in Milwaukee and wrote a play for Catholic Memorial as well.
She said she doesn't have any major plans for change as of yet but has courted the idea of a venue update for the Dale K. Hidde theater.
"If anyone can support the arts in their community wherever they are, the arts are integral in a child's education," she said. "I'm blessed to have such a huge support system for the arts in Wauwatosa and I hope people support it as I pick up the reigns."