Red Dot aims to duplicate East Side success in Wauwatosa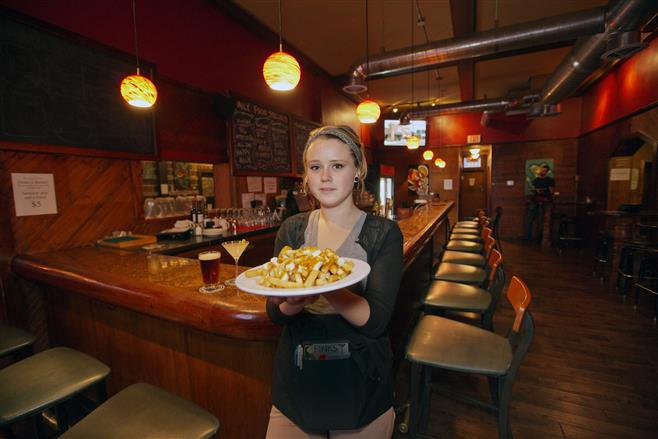 East Tosa has been such a hotbed of restaurant activity lately that sometimes changes happen with little fanfare. One such change was the conversion of the recently opened Sherbrooke to Red Dot. Owner Martin Beaudoin, who owns another Red Dot on the East Side, decided to bank on the successful reputation of the brand and bring it to Tosa.
Red Dot will not be too different from Sherbrooke and will still offer customer favorites such as poutine (french fries with gravy and cheese curds) but the focus will be less on sit-down dining and more on customers who want to stop in after work for a drink and a bite to eat.
"We offer American pub food — burgers and sandwiches," manager Brian Mielke said. "Although the atmosphere hasn't changed much, the food menu has changed significantly. We offer approximately 75 percent of the same menu as Red Dot on the East Side."
Some of the featured items on the Red Dot Tosa menu include: duck sliders ($9), smokehouse mac and cheese ($11) and the half-pound pub burger ($13). There are drink and food specials nearly every night, and brunch is offered on Sundays. They also are proud of the fact that their Bloody Mary won the Bloody Mary Throwdown during the Chili'n on the Avenue event.
Named after a professional skateboard logo, Red Dot aims toward a casual atmosphere that's much more bar-friendly.
"We are excited that people are coming in because they know the Red Dot name," Mielke said. "Beyond that, we offer pub food that's not all fried pub food. We're making stuff from scratch, and the prices are reasonable."
The Basics
NAME: Red Dot Tosa
ADDRESS: 6715 W. North Ave.
PHONE: (414) 607-1045
FARE: American pub food
HOURS: 4 to 10 p.m. Monday through Thursday; 4 to 11 p.m. Friday and Saturday; 10 a.m. to 3 p.m. Sunday for brunch, dinner until 10 p.m.
PRICE RANGE: $7 to $14
RESERVATIONS: yes
HANDICAPPED ACCESS: yes, but not bathroom
GLUTEN-FREE OPTIONS: yes
LOOKING TO 'GRAB A BITE'?
"Grab a Bite" is an informal look at the food scene in the Wauwatosa, Brookfield and Elm Grove area. If you would like to suggest an eatery for Grab a Bite to visit, send an email to news@cninow.com.