Blaze offers personal pizzas made to your order, in a flash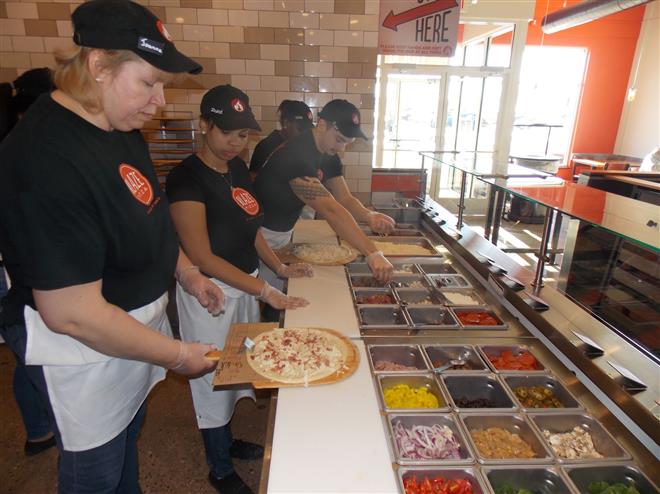 Some would say that building your own personal pizza and baking it in less than three minutes is fast...even blazing fast — and that's the idea.
Blaze Pizza is now bringing its fast, build-your-own-pizza to Brookfield. The company opened its first Wisconsin location in November in the Brownstones Shopping Center on Bluemound Road, and so far the results have been promising.
"Brookfield has the right mix of residential, retail and office that we're looking for," said John Walch, president of Walch Hospitality Group. "The reception from the community has been very positive, and people seem happy with their pizzas. We've seen a lot of repeat customers, which is a testament to the food."
Walch describes Blaze Pizza as a fast casual restaurant, similar in business model to Panera or Chipotle in that customers can get a more upscale meal quickly.
Blaze Pizza offers nine signature pizzas, such as Green Stripe (pesto drizzle over grilled chicken, roasted red peppers, chopped garlic, mozzarella and arugula) and Red Vine (ovalini mozzarella, cherry tomatoes, Parmesan, basil, red sauce and olive oil drizzle).
It also offers customers the ability to build their own pizzas by naming the ingredients they like to have. All pizzas are made to order on an interactive assembly line, and then baked in a wood-stone oven at temperatures between 600 and 800 degrees. Three minutes later, the pizza is ready to serve.
"The ability to pick and choose all the ingredients you want — you can add or subtract anything — that's really popular right now," Walch said. "It's perfect for lunch. You can get an 11-inch pizza made to your exact liking for less than $10 and it's very quick."
Orders can be placed online at BlazePizza.com; gluten-free crust is available upon request.
Business card
NAME: Blaze Pizza
ADDRESS: 17500-A W. Bluemound Road, Brookfield
PHONE: (262) 754-0999
EMAIL: 1008brookfield@blazepizza.com
HOURS: 11 a.m. to 8 p.m. Monday through Thursday; 11 a.m. to 10 p.m. Friday and Saturday
PRICE: Pizzas range between $5 and $7.45; side salads cost $3.85; entrée salads, $6.85.
HEADING OUT?
"Pen & Tonic" is an informal look at the social and dining hotspots in Wauwatosa, Brookfield, Elm Grove and surrounding areas. If you would like to suggest an eatery, tavern or other locale for Pen & Tonic to visit, send an email to sstaedler71@gmail.com.