Wauwatosa hopes new electric, hybrid cars will save money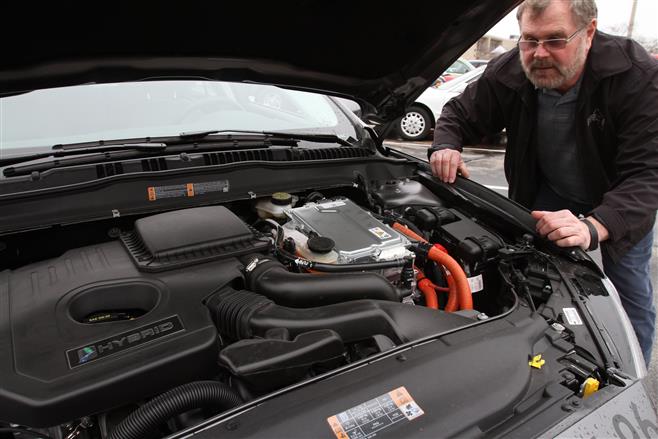 Kevin Hurst, traffic and maintenance superintendent for Wauwatosa, imagines a day when electric-car chargers are stationed throughout the city. But for now, he's excited about getting one in the garage at City Hall.
A hybrid car arrived at City Hall two weeks ago, and an electric one, which will have to be plugged in each night, is on its way. They are part of an experiment by city officials to see how much money Wauwatosa can save on fuel by relying more on electricity.
"We're a really progressive city, and administration is really pushing that," Hurst said. "They want us to cut down on our fuel use and reduce are carbon footprint, as we should."
Hurst said the city needed to replace three cars at City Hall, so officials decided to take the opportunity to make some changes.
"You either change with the technology, or you get left behind," Hurst said.
The cars will be used by the electrical inspector, code enforcer and building inspector. Hurst will be watching the gas and electricity bills for the cars to do the city's own math on the savings, but he is expecting to see savings.
With a price tag for the city of $31,400, the electric car was about $15,000 more than the Ford Focus. But over the ten-year period the city usually keeps a car, Hurst said the city will likely save about $1,750 per year, eventually eclipsing the difference in initial cost.
"Electric vehicles are the wave of the future," Hurst said. "They are sustainable, and as they get cheaper and the price of the battery drops, I think you'll see a lot more electric vehicles on the road."
The cars will present new challenges for the city's mechanics, who Hurst said will need to be trained on hybrid and electric vehicles. But he wasn't worried, noting the sign on the shop that says, "Fleet maintenance: yes we can."
"I don't think this is going to be a real issue," Hurst said. "For our guys normally working on big, heavy-duty garbage trucks, it's exciting and cutting edge. We got some guys in their 50s and some in their 30s, and they're all on board with this and excited to see how this is going to work out."