Nuisance property demolished across Lincoln Elementary
Contractors make way for new, eco-friendly design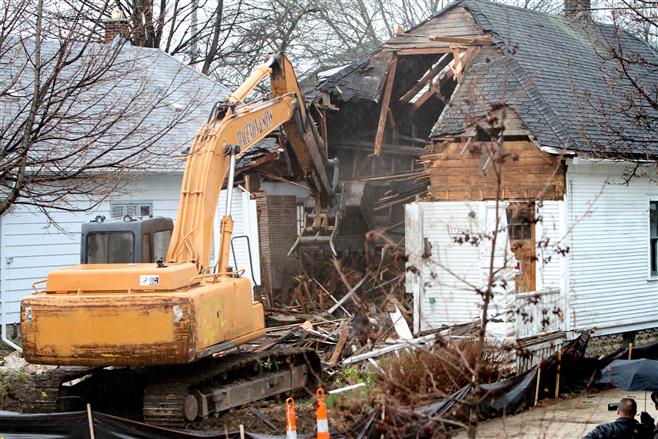 Everyone has been wondering about this house. The smells, the animal infestations, the vacancy.
Abandoned since it was deemed uninhabitable and a nuisance property by the city in 2008, the old Cape Cod at 1737 Underwood Ave. faced wreckage Thursday morning in front of more than 325 spectators at Lincoln Elementary School.
"I have lived here more than 50 years and I am delighted to see it come down," said next door neighbor Joan McMahon, who watched cleaning teams enter the property on three separate occasions to remove excessive garbage, rodent-infested and contaminated clothing, and furniture. The property used to be owned by John Serwe, a Milwaukee Public School employee, who accrued more than 70 citations due to the squalor. It is one of the neighborhood's only demolitions, a spectator said.
"The city has wanted this house gone for a long time. This thing is an ey-sore," said Kristin Allen of Creative Home Designs, the general contractor for the property's new owner, Amy Persin.
Persin is a Wauwatosa native who has lived in California's Bay area on and off for 20-plus years with her three children. She expects to move in next summer.
The new home will be slightly more modern than the surrounding Cape Cods in the tidy Victorian neighborhood, Allen said. Its architect is based in San Francisco and has incorporated many West Coast, eco-friendly materials into the design. The majority of the house's exterior will be windows.
"We've watched this house for many years," said Mary White, physical education teacher at Lincoln. "It's good to see the city build it back up again."
Allen provided every Lincoln Elementary student and staff member with a hard hat so they could safely view the demolition from behind the playground fence. If a stormy morning hadn't met the spectators, Allen would have given a presentation on construction site safety with Carmen De La Paz, a spokesperson for 3M who has performed on shows on HGTV. She was in attendance.
Second-grade teacher Ann Anderson said her class has studied how communities change in their social studies unit.
"It's so unusual for (a demolition) to happen in Tosa," Anderson said. "This is an excellent opportunity to connect with social studies."
Anderson said she has lived in the neighborhood for more than 10 years and this is only the second tear-down she has seen.
Rain or shine, the children didn't seem to mind.
A group of fourth-grade girls sang the "Bob the Builder" television theme song while boys chimed in with AC/DC's "TNT."
"I want a show!" fifth-grader Will Haeflinger said while dangling off a rope play structure. The "show" only lasted about 20 minutes, at which time construction equipment faced technical difficulties.
White added: "Really, if we were inside, they'd all be staring out the windows trying to get out of the classrooms."
Demolition continues through Friday.