Wauwatosa School District lays off 34 custodians
Audience outraged at school board's vote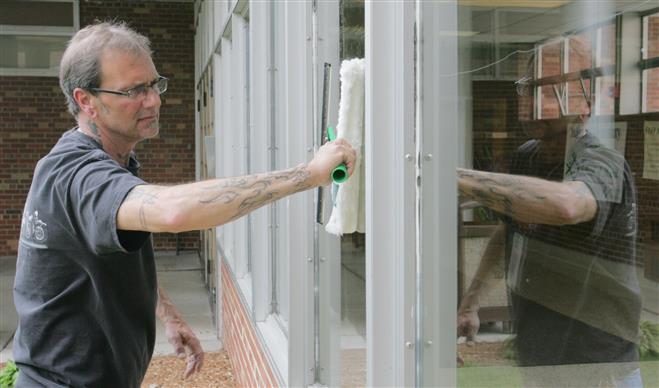 Despite repeated pleas from residents to look at other options, the Wauwatosa School Board voted 5-2 Monday, May 19, to outsource about half of its custodial staff and lay off 34 district employees for the next school year.
District staff expects the move will save $850,000 annually. Without the change, they were estimating a budget shortfall of at least $325,000 next year looking only at a one percent increase to teacher salaries and 5 percent increase in health insurance costs, and being limited by state revenue limits.
Related: Tosa custodian makes case for his job at an earlier hearing.
"This is really an issue of a structural deficit in our budget, and we don't know that there's an end in sight," said Superintendent Phil Ertl.
But many people who attended the meeting said there were other ways to save money that had not been thoroughly explored.
Steve Domurat, head custodian at Underwood Elementary School, said he emailed board members with a proposal to reduce the hourly wages of district custodians like him by $4 for those on the higher end and by $3 for those on the lower end, or other amounts to meet the district's goal. He suggested the district consider ending its contribution to custodians' pensions, eliminating health insurance benefits at retirement and reducing their vacation time.
"We want to be part of the solution," Domurat said. "If we have to give back money, reduce our benefits, there's lots of things we can get rid of, and I think you'll still retain a lot of quality people. I just want to do my part for this solution, and I'm willing to give anything within reason to retain my job and continue my service."
School Board Member Phil Kroner, who voted against the plan, asked Ertl if he had considered asking the custodians to make concessions.
Ertl replied, "Yes, we considered that but didn't think it was in our best interest."
Under the new contract with Dan Plautz Cleaning Services, custodians will make as low as $10 per hour at night and an average of $13 per hour, according to Buildings and Grounds Manager Tom Kulczewski. Currently, $13 is the minimum the district offers for an entry level cleaning position, with most custodians making $19-23 an hour, Kulczewski said.
The district will retain 35 full-time employees and one part-time employee, including nine head custodians, so each elementary school will have a district employee at the helm during school hours.
As for the others, layoffs will be done according to district policy, which considers an employee's experience, latest evaluation and disciplinary record, Kulczewski said. They will have the option of applying for a position with the contracted company.
Proposal dialed down after community comment
Ertl's recommendation May 19 included six fewer layoffs than his original recommendation two weeks before.
Director of Business Services John Mack said the change was to address the "biggest concern" from the last school board meeting where parents said they were worried about whether they could trust contracted employees to keep the schools secure.
But in their comments May 19, more than a dozen speakers made it clear they weren't satisfied.
Chiqueena Fairconatue spoke on behalf of her husband, Bennie Johnson, a custodian at East High School who last month received a Friends of Education Award from the Wauwatosa Education Association.
"I feel like they're getting no love from this meeting, from the PowerPoint, from your comments," Fairconatue said. "They're not getting anything out of this deal. Everyone is prospering from this deal except for the people that work their butts off for these schools."
Fairconatue joined others in decrying the move as immoral.
"If we continue to put a dollar in front of everything, this country will be poor and rich," she said. "There will be no middle class. If we keep outsourcing all of our middle class jobs, there will be nothing left for them."
In announcing his "no" vote, Kroner said he thought the possibility of concessions had not been fully vetted.
"It feels premature to me," Kroner said to applause. "For me, because I don't have a good sense there is an immediate financial crisis, it would seem to make more sense, especially since they volunteered, to negotiate concessions and see what we could do with the savings there."
But other than one other vote of dissent from Brian Bawden, the rest of the board voted to approve the contract. Some members said it was the most difficult decision they've had to make.
"I think of 34 custodians, and then I think of 6,000 students, and I know this choice will benefit all of them," said School Board President Mary Jo Randall. "I think that all of the questions have been answered responsibly. I can't help if people are still skeptical."
Cleaning company comes recommended
Dan Plautz Cleaning Services, based in Muskego, has worked for the Kettle Morraine School District, Catholic Memorial High School and Marquette High School. Kulczewski said the company came highly recommended from those schools.
Although it wasn't the lowest bidder, Kulczewski said the company was chosen out of 19 that toured the schools because it provides higher wages than its competitors and seemed more open to working with the district.
"We avoided that large company where we're just a number," he said. "They have higher wages, good chemicals and a good reputation."
Kulczewski said the company's security procedures match up with what the district does now.
Assistant Manager of Buildings and Grounds Melissa Nettesheim said the company will conduct state and nationwide background checks and would allow her to help interview candidates.