Foti Chiropractic of Wauwatosa makes wishes come true
Business fundraises for Make-A-Wish foundation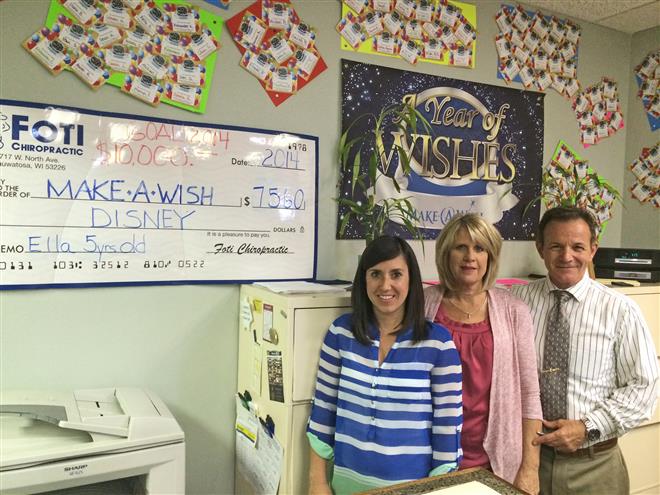 Raising $10,000 in one year may seem like a lofty goal, but for Foti Chiropractic, it's looking like a breeze.
One June 17, the Wauwatosa-based chiropractic office raised $2,700 in one day by selling T-shirts and $10 spinal adjustments for its Make-A-Wish campaign.
Make-A-Wish grants the wishes of children with life-threatening medical conditions. The program granted 340 wishes in 2013 alone.
Foti Chiropractic, a family-owned and operated company, has now raised $7,560 to date to benefit Ella, a 5-year-old in Germantown living with cystic fibrosis. Her wish was to vacation to Disney World with her family in Orlando, Florida. Ella will receive $5,000 for her trip.
The remaining $5,000 of Foti Chiropractic's fundraising will benefit another "wish kid" later this year.
"To those that are given much, give back," said David Foti, owner and chiropractor.
"It's important to give back to the community; we have so much to offer," added Felicia Toy, who is a chiropractor and also Foti's daughter.
Toy joined her father's business in 2007, when he moved his office from North 59th Street and West North Avenue to its current location at 11717 W. North Ave. Foti has been in business for 36 years.
The walls of the office are lined with Make-A-Wish pledges from community members — some who wrote donations and others who paid $40 for a screening, which includes a basic exam and an X-ray.
"It gives a lot of people a chance to see if chiropractic care can help them," said Toy. "Once they hear about (Make-A-Wish), they feel more comfortable with our office, especially when they hear how much we've already raised."
Last year, Foti Chiropractic raised $10,000 to benefit a child who wished for a trip to Maui.
Foti Chiropractic has often contributed to charities, such as the Ronald McDonald House and Habitat for Humanity. Make-A-Wish allowed the business to not only affiliate with a reputable foundation but also donate one lump sum at the end of the year.
Fundraising has also helped expose community members to chiropractic care.
Foti Chiropractic has sold its $40 screenings, with all proceeds going toward Make-A-Wish fundraising, to the general public at health fairs, farmers markets — any place where vendors can rent a booth. Screenings led to the acquisition of 11 new clients last month, Foti said, even though the majority of his business spreads by word-of-mouth.
"We want people to be under chiropractic care and to give back," Foti said. "And if that gives them an opportunity, it's a win-win situation."