Longtime Wauwatosa columnist Peggy Dean, who wrote 'Around Peg,' dies at 89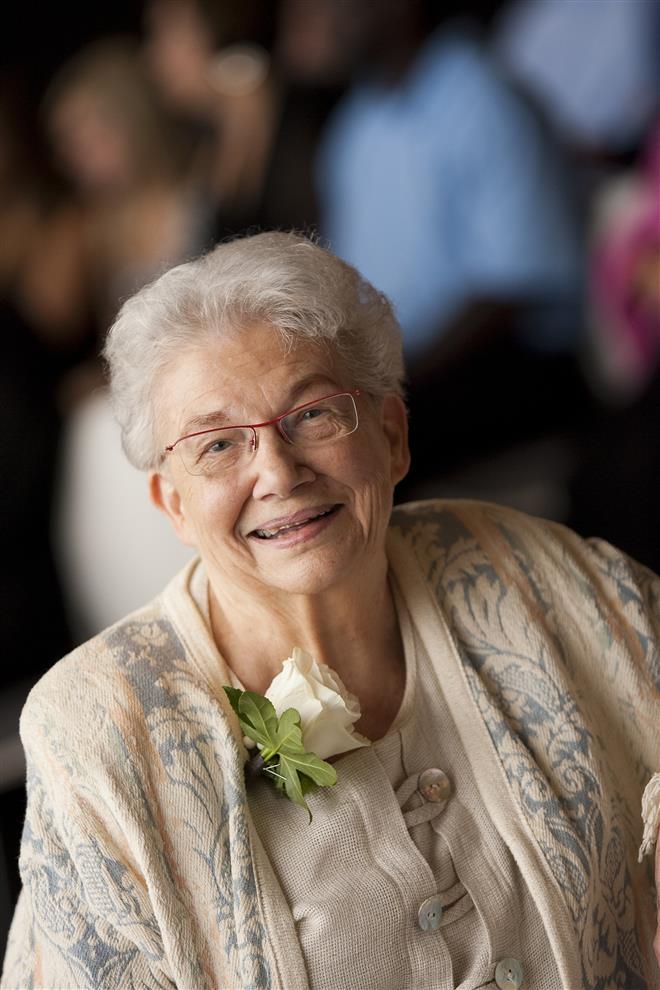 Many of us who worked with Peggy Dean marveled at her wit. We were inspired by her writing and made better by her friendship.
Peggy, whose award-winning "Around Peg" column ran in the Wauwatosa News-Times for many years died Aug. 12. She was 89. Services were held last week.
Peggy loved the newsroom and she loved what she did.
"She was a calming influence. She was the newsroom's mom," said C.T. Kruger, Community Newspaper photo editor who worked with Peggy for many years. "If you needed a good dose of common sense you asked Peggy."
Kruger recalled the time Peggy interviewed singer Tiny Tim in Cudahy. "She came away saying what an Old World gentleman he was," Kruger said.
Peggy told me about the time she interviewed Dick Bacon, a local bodybuilder known for his nude sunbathing. When she came to the door she could see that he was bare-chested — and was relieved to find he had shorts on when he opened the door.
"Peggy loved people," said longtime Community Newspapers reporter Jane Ford-Stewart, "especially the characters. While most people are uncomfortable at a party with a lot of strangers, Peggy loved it. She told me that she looked at all the people like they were chocolates and she wanted to know what was inside every one."
I sat next to Peggy, who worked into her 70s, until about 2000, and kept in touch through her retirement years. Like wine, she and her column just seemed to get better with age. She wrote about her children (four sons and four daughters); about her husband, Dave; about Wauwatosa, where she lived much of her life; about things that were important to her. Peggy also reviewed plays at the Sunset Playhouse and wrote many feature stories.
Her columns could be thoughtful and poignant and tell amusing anecdotes. They were always clear, concise and grammatically flawless. She ended every column with "See you around … Peg."
Peggy had the ability to see through life's clutter and view the spiritual beauty that surrounds us. She was a master storyteller, in the written and spoken word, which delighted her readers and newsroom mates. I remember her telling me about one of her first jobs, as an advertising copywriter.
She talked about how she meticulously crafted the words and how proud she was of her work, but then how humbled she felt when she saw one of her newspaper ads on the floor of a bus, stepped on many times. And then she laughed heartily, as she often did, at herself and with others.
Peggy always seemed totally at peace and comfortable in her own skin. You might say she viewed the world through rose-colored glasses, but you always knew she was perfectly aware of the reality. Nothing got past her.
Even though her view of the world dimmed through her failing eyesight in recent years, she found ways to make something positive of the experience. She joined a support group, making more friends along the way. There was nothing the world could throw at Peggy that she couldn't catch and make something of.
When Dave died, after a bout with Alzheimer's, Peggy wanted to help others associated with the disease. She led an Alzheimer's group at San Camillo, the elderly housing center. She was so good at getting people together, getting people talking and thinking.
"She always wanted to take care of anyone who was left out, she always brought them in," said Ford-Stewart. "Peggy has been a true light in my life."
Peggy was also very spiritual and always open to new views and ways of expressing her spirituality. In recent years, she took up saying "namaste," with a slight bow and hands held together. It is a Hindu expression which means "I bow to the divine in you."
One day I happened to mention that it was our 25th wedding anniversary and the next day a little silver vase with flowers appeared on my desk. She was always thinking of small, meaningful ways to let others know she was thinking of them.
She was a master of puns. Many (myself included) would engage her in pun contests, but Peggy would always get in the last zinger.
"She was so fun — always quick to make a joke," said Ford-Stewart. "I never went to lunch with her that the server wasn't absolutely delighted with Peggy. And she was just being Peggy."
She would boast about her wonderful family — the eight children and numerous grandchildren. She told me that when they were growing up she would always remind them that their behavior reflected on the family, saying, "Remember, you are Deans."
We were a close bunch at Community Newspapers, of which the Wauwatosa News Times was a part, and the laughs flowed when Peggy was part of the bunch.
"She had so much zest," said Ford-Stewart. " I remember last year a friend and I had lunch with her and no sooner did my friend take Peggy by one arm and I take the other than we were all singing "We're off to see the Wizard."
Family members said she was laughing, joking, playing games and singing with family members who were ever-present during her 10 days in home hospice at San Camillo in Wauwatosa, and that she would wake up with a surprised, "I'm still here??!"
Indeed, everyone who knew Peggy can say she is still here.
IN HER OWN WORDS: Peggy wrote how "every single working day of the year is a September kind of day for me."