Two East athletes charged in home invasion case
Boys face false imprisonment, armed robbery charges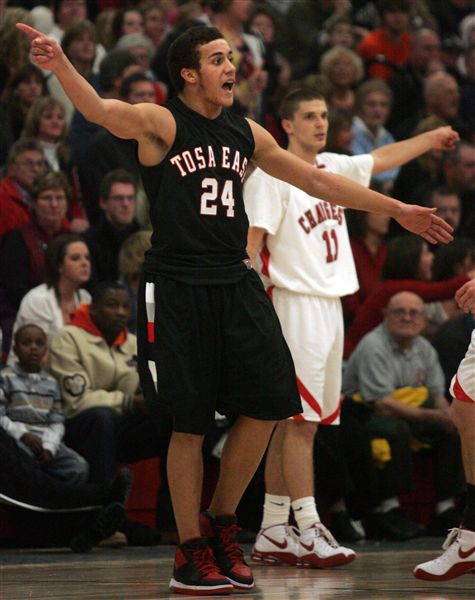 Wauwatosa East High School athletes Larry Bradley and Barett Powell and Milwaukee Vincent High School athlete Dezmond Gosa were each charged in Milwaukee County Children's Court on May 6 with two counts of attempted armed robbery and one count of false imprisonment.
Under state statute, the felony charges fall into the category of Serious Juvenile Offenses, disqualifying the boys from some of the protections of typical juvenile cases and leaving them open to more serious penalties.
NOW is naming the teens because of the serious nature of the offense and potential penalties.
If found guilty, they could each spend up to five years in the House of Correction. Powell and Gosa were scheduled to appear in court for plea hearings May 13, after NOW's deadline. Bradley is expected to have his plea hearing Friday, May 15.
The charges came after the three 16-year-old boys were arrested for invading the home of an alleged drug dealer and his mother in the 6100 block of Martin Road on May 1.
Wauwatosa School District officials have declined to comment on the case.
According to Wauwatosa Police Department reports:
Powell was packing for the trip to Indiana, where the boys were going to play in a basketball tournament, when Bradley called several times and asked to borrow a BB gun. Bradley said he was looking to get some money that was owed to him and told Powell if he brought his ski mask he would get paid to serve as a lookout.
Bradley also called Gosa and asked if he wanted to be part of the plan.
All three entered the house, which they said they had been to before, pointed the gun at the residents and demanded the son give them money, which they said they knew he had from selling marijuana. He denied having money, so his panicked mother said she would take them to a bank and get cash.
Bradley and Gosa left with the mother, while Powell stayed behind and unveiled his face to the son, who said he would get in trouble for having marijuana at his home. The two tried to hide the son's drugs before Powell went into the basement to hide.
Meanwhile, the mother and two teens arrived at Metcalf's Sentry Foods on State Street, where Guaranty Bank is located. They allowed her to go into the store alone, where she called police and said her son was being held against his will. When the boys in the car heard sirens, they ran to the nearby UPS Store, where they were apprehended.
When officers responded to the house, they ordered Powell to come out. He was arrested in the front yard of the residence. He immediately started crying and said his life was over because he was supposed to attend college on an athletic scholarship, which would likely be taken away.
Powell, a wide receiver, was named co-offensive football player of the year in the Greater Metro Conference and set a school record with 52 receptions. He also played basketball.
Bradley, who received statewide acclaim for his basketball talent, played guard for the Red Raiders. His time playing for Wauwatosa East was marked by controversy over his eligibility after he moved in with his uncle, for tardiness to games and poor sportsmanship. He quit while the team was in the sectional semi-final and finals.
The boys are being held at the Children's Court Center.
Officers suspected the son might have been targeted due to alleged drug activity. A search warrant was issued, and marijuana and drug paraphernalia were found in his bedroom. He was arrested for marijuana possession.
Stefanie Scott can be reached at (262) 446-6618.