American classics featured at Milwaukee Hot Dog Co.
Candy sales round out business' offerings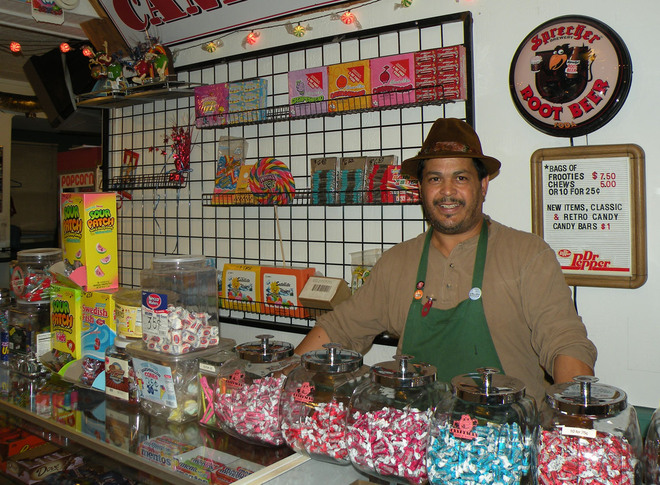 You don't need to travel deep to the heart of Texas, or to Coney Island, to get yourself an authentic hot dog. Angel Perez and Tom Kuhn are bringing them to you.
The two men operate the Milwaukee Hot Dog Company and Candyman Snack Shop, 7259 W. North Ave., where they've been serving up famous hot dogs for the past four years. The shop is celebrating its anniversary Saturday, with an appearance by none other than the Klement's Racing Sausages; the Milwaukee Hot Dog Company serves only Klement's products.
"We've been open since November of 2007, and business is going well," Perez said. "Our anniversary on Nov. 5 will be a nice event for everyone. If you're hungry, come on out and give us a try."
Perez and Kuhn got into the hot dog business after building the storefront into a candy store for a gentleman back in 2007. After a few months he decided the candy business wasn't for him, and was looking to sell the store. The two men bought the store, added a kitchen for hot dogs and other hot food and the Milwaukee Hot Dog Company was born.
Best sellers include the Italian Beef and the Texas Hot Dog, which features a hot dog with two strips of bacon, cheddar cheese and barbecue sauce. They also sell authentic Coney Island dogs and Milwaukee Dogs served Chicago-style.
"This is food you don't find anywhere anymore," Perez said. "We have good food for a cheap price. You have to come in and see for yourself."
On Saturday, the men are debuting new additions to their menu, including homemade chili, red beans and rice, soups and other items to warm the body during the winter months. Nearly all the products they use are locally produced. They also make most of their seasonings to give everything a unique flavor.
Their other mainstay is candy - and they sell a lot of it. Walking into the business is kind of like taking a step back in time. That's a design element they wanted to capture.
If you would like to suggest a business to be featured in the Business Spotlight, send an e-mail to news@cninow.com or call (262) 446-6643.
JUST THE FACTS
BUSINESS: Milwaukee Hot Dog Company and Candyman Snack Shop
ADDRESS: 7259 W. North Ave.
PHONE: (441) 393-7647
HOURS: 11 a.m. to 6 p.m. Monday through Friday, 11 a.m. to 4 p.m. Saturday and 11 a.m. to 3 p.m. Sunday
OWNERS: Angel Perez and Tom Kuhn
INCORPORATED: 2007