Balloons send up messages to lost loved ones at Kyle's Korner in Wauwatosa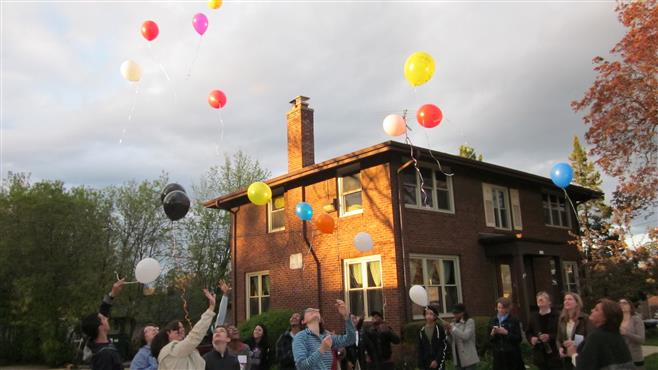 The sun peeked out from a cloud just before a group of friends emerged from the brick building on the corner of North Avenue and 71st Street, known as Kyle's Korner, shortly before sunset Thursday, May 15. Each person was carrying a balloon with a special message.
"We got sunshine just for this," someone said as the group assembled on the driveway.
Each guest was there to remember a lost loved one by releasing a balloon in their honor during a difficult time between Mother's Day and Father's Day. They are all part of support groups that meet free of charge at Kyle's Korner, thanks in large part to donations and grants.
Jahari Minor, an 11-year-old from Milwaukee, laughed with other kids in the house before the balloon launch as they tried out their helium voices and jumped at a balloon popping.
But he was serious as he spelled out "Dad" on his balloon. Inside was a message.
"I feel like my Dad will get it," Minor said. "He was the best dad ever. He always used to do things for me and my sister. He always took us everywhere, and he did everything for us."
Minor's dad passed away in December, and he has been coming to Kyle's Korner for a few weeks now with his sister. He said it helps him express his feelings. When it's hard to find the right words, students can look through a bucket of "chatter rocks," choose a rock with a painted symbol that represents how they feel and explain what the symbol is meaning to them.
Janelle Holland, who came from Franklin with her 13-year-old son Hunter Zamitalo, said Kyle's Korner has been a "life saver" for both of them after Zamitalo's father passed away.
"Nobody understands; they just tell you to move on," Holland said. "Here, it's different. You can cry."
Looking at her son, she added, "He doesn't speak to me about it, but when he comes here he opens up."
As the group circled up outside with their balloons, Linda Linscott, director of programs and services, read a poem called "We Remember Them."
"As long as we live, they too will live, for they are now a part of us as we remember them," Linscott finished.
On the count of three, Minor, Holland, Zamitalo and about a dozen others released their balloons. They floated into the setting sun. Many members of the group remarked that the balloons seemed to stay together in a pack as far as they could see.
Zamitalo said it helped bring "a little bit of closure" as he headed back inside, leaving the balloons beyond the horizon.