Anchor Bank expects to win bid for Tosa's Rosebud Cinema
Sheriff's sale set for May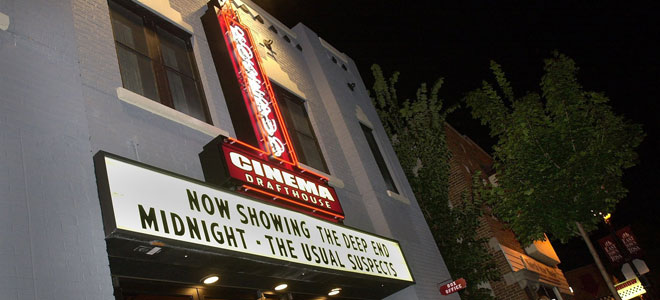 With all of the unknowns surrounding the future of the Rosebud Cinema, Scott Christensen knows one thing: He's sitting on a $75 gift certificate and he'd like to use it.
"I've been trying to find out if the certificate will be good if the Rosebud opens," said Christensen, a teacher and Tosa resident who received the gift from his Lincoln Elementary fourth-graders. "I'm sure I'm not the only person in Tosa with a gift certificate."
It appears the answer to that will take at least an additional couple of months. Legal and logistic issues cloud the future of the theater, 6823 W. North Ave., which closed early last month. Anchor Bank in Madison won a foreclosure lawsuit against former owner David Glazer, who also lost the nearby Times Cinema on Milwaukee's far west side.
Glazer declined to comment about the foreclosure except to say that he offered Anchor Bank a couple of options to clean up his debt. He reportedly had four properties involved in a cross-collateral financial arrangement with a balloon loan payment that became due last fall.
Those currently involved in the theater ownership and management confirmed this week that a sheriff's sale will be held May 7.
"It's likely but not an absolute certainty that Anchor Bank will win the bid," said Russell Long, Anchor Bank's attorney from Milwaukee firm Davis & Kuelthau. Long estimated that the sale will take three to four weeks to complete.
Possible summer rebirth
June, then, appears to be the starting point for what property ownership and management say is a necessary cleanup and renovation as well as bringing aboard new theater management.
David Behnke, president of Siegel-Gallagher Management, a commercial real estate firm that is the property receiver, said his firm has contacted three possible parties. Two are current theater operators that Behnke declined to identify by name or location. The third is Jay Hollis of Milwaukee, who developed and operated the Rosebud and Times before selling them to Glazer in 2007.
Hollis would not confirm that Saturday, saying "this is all tied up in legal matters and I can't say anything else about it."
However, he agreed that if all the circumstances were right, he might be interested in returning to those theater roots.
Larry Widen, who operated the Rosebud and Times for Glazer, his brother-in-law, said he thinks Hollis is the only potential future manager.
"I don't know why they didn't just let the theaters run because at least they were getting something out of them when they were open," Widen said. "There's a lot going on behind the scenes that only a few people know."
Which still leaves a mystery for those who love having a neighborhood cinema.
Neighbors wait and hope
"It's sad, but we are very hopeful that it will come back," said Mayor Kathy Ehley. 'I know a lot of people are counting on that."
Ed Haydin, a board member of the Tosa East Alliance, which is working to support and promote new business on North Avenue from 60th to 76th Street, said there was no indication that the theater was in trouble and by all accounts was doing very well.
"I think it's a lesson that even though we don't always know what is going on behind the scenes with financial situations, we need to support our local businesses," Haydin said. "There's a relationship between a place like the theater and other businesses like Cranky Al's, Il Mito and now Rocket Baby."
As for Christensen, he said he is looking beyond the fact that he has a gift certificate that he can't use.
"In class, we talk about the importance of doing business locally," he said. "I hope the Rosebud comes back so that message is reinforced."