Battle of the Books challenges kids to stretch their limits
Wilson/STEM fourth-graders take third in reading comprehension contest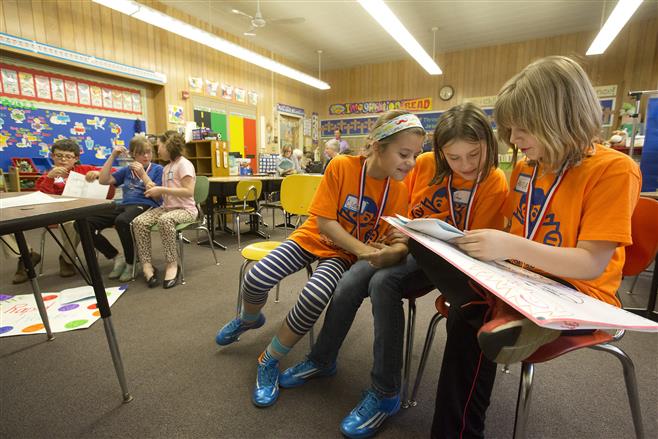 There may have been 102 students from 15 schools packed inside Christ King School on Thursday, April 10, but they all fell silent as they competed in the regional Battle of the Books invitational tournament.
Battle of the Books is a reading incentive program for fourth-, fifth- and sixth-graders. To participate, students form teams of three within their grade level and read 45 books from a pre-determined book list.
The reading list is tailored to fit all reading levels.
"For a fourth-grader, some of those sixth-grade books are challenging," said Ivana DiCastri, parent volunteer at Christ King. DiCastri organized the event with Cheryl Harvey, a librarian and reading resource person at Christ King.
Those teams battled — or, answered comprehensive reading questions for points — at the school level against other grades in January and February. The highest-scoring teams then advanced to the regional invitational against 15 schools in April.
"What I've found is (Battle of the Books) gives certain kids who are not super athletic an opportunity to be part of a team and compete by using their minds," DiCastri said. "I've received so many notes from parents thanking the school for giving their children an opportunity to compete in an educational setting."
The battles begin
The regional competition is scheduled into two rounds. In each round, students must answer questions based on the books they have read and provide the correct author and title of the book for eight team points. There are 15 total questions. A perfect score for a round is 120 points.
"Here (students) are forced to get to know the books and get exposed to some titles they wouldn't ordinarily pick up," DiCastri said.
"It's a great way to build reading comprehension and to get kids talking about books," she added.
Wilson/STEM fourth-graders, team name "The Spicy Onions," placed third in their grade level with 112 total points. They trailed behind St. Monica's "The Brilliant Bookworms," with 136 points, and St. Robert's "The Magic Phewz," with 141 points.
Christ King sixth-graders, "We The Readers" landed in fourth with 136 points. DiCristi said "We The Readers" has been a team since fourth grade and missed third place by one question.
"They really wanted to get a trophy this year," she said.
Many took part
Christ King fifth-graders, "The 'A' Team," garnered 128 points for fifth place. Christ King fourth-graders, "The Rapid Readers," placed sixth with 104 points. Wilson/STEM fifth-graders, "The Black Panthers," got 13th place with 26 total points.
There were 12 total fourth-grade teams, 13 fifth-grade teams and 10 sixth-grade teams. Participating schools were Atwater Elementary, Bayside Middle School, Christ King, Glen-Hills Middle School, Holy Family Parish School, Lake Bluff Elementary, Lincoln Elementary, Lumen Christi Catholic School, Nativity Jesuit Middle School, Notre Dame Middle School, St. Jude the Apostle School, St. Monica, St. Robert, Stormonth and Wilson/STEM.
Battle of the Books came to Christ King in 2010 but has existed as an organization since 1999, DiCastri said.
Lincoln School in Wauwatosa will host the invitational next year in April.
At a glance
The Battle of the Books reading list for 2013-14 included titles such as:
■ "The Thief Lord" by Cornelia Funke
■ "My Life in Dog Years" by Gary Paulsen
■ "Where the Red Fern Grows" by Wilson Rawls
■ "The Gold Cadillac" by Mildred D. Taylor
■ "In the Year of the Boar and Jackie Robinson" by Bette Bao Lord
To read the full list, visit Cms4Schools.com.