Wauwatosa's bike/pedestrian plan meets opposition over sidewalks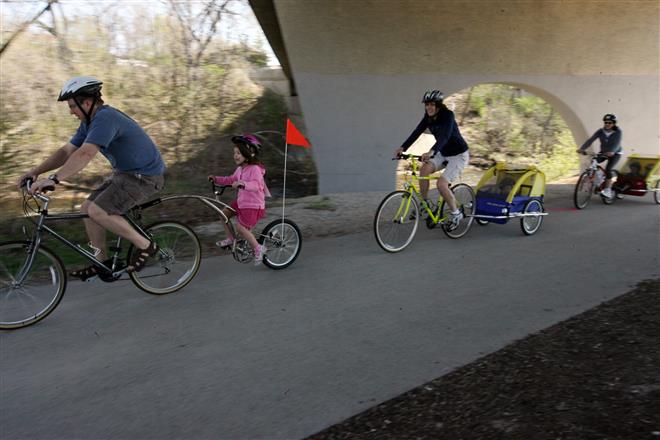 Wauwatosa's bicycle and pedestrian plan met a bump in the road this week as more than 75 people turned up at Monday's Plan Commission meeting, many of them to voice opposition.
Two hours of public comment and debate ended when the panel voted unanimously to send the plan back for revision.
While 16 people praised the plan in general terms as an asset to community health, alternative transportation and economic development, more than two dozen spoke against it, virtually all of them with specific objections to elements of the plan that affect their property, and most of those were residents of 116th Street who objected to a proposed sidewalk.
A path or route connecting Center Street was a problem for several others.
The plan puts a high priority on sidewalks on both sides of the north/south route formed by 116th and 115th streets, which connects to Eisenhower Elementary and Wauwatosa West High School across Center Street on its northern end, and comes within three blocks of Underwood Elementary south of Watertown Plank Road.
Jack Bothwell said he is an avid biker, and that, as a former principal in the Waukesha School District, he could say with authority that fewer students were walking to school "and it has nothing to do with sidewalks."
Bothwell's yard is highly landscaped, especially on its street edges. He said that a sidewalk would cause the property value to plummet and would "desecrate the property."
Losing landscaping
The loss of landscaping and trees that line the streets was a concern shared by many others, as was the cost of sidewalk installation, which would be borne by the homeowners along the street. Plan Commission member Gloria Stearns, a resident of 116th Street, said sidewalk installation, costing in the range of $7.50 to $15 a foot, would run her more than $4,500 on the high end.
Several testified that few students or pedestrians of any kind are seen on the route.
"I don't see children walking, running or riding their bicycles," said Dan Mies, of 116th Street. "It's a different time."
"Most kids are driven to school by parents," Duane Langen said, asking, "How many people are going to use this thing? Can you answer me that question?"
Several residents testified to the fast pace of traffic on 116th, and Plan Commission member Jody Lowe said if it wasn't so dangerous, more pedestrians might use the street.
And Wauwatosa resident Kevin Hardman, who as head of the Wisconsin Bike Federation worked on the plan, said, "What a plan like this does is make it safer for everyone," including bikers, walkers and drivers. He said the objections were centered on a mile stretch in the vast, highly detailed plan and asked the Plan Commission to not "throw the baby out with the bathwater."
Plan not yet policy
City Development Director Paulette Enders and Alderwoman Kathleen Causier, who chaired the meeting, reminded those gathered that the plan hadn't been approved, that it was just a plan, that it hadn't been funded, and that implementation of elements of the plan would require further meetings with citizen input.
Alderwoman Cheryl Berdan, who represents the residents on 116th Street, had objections to the plan, and said, "We do refer to our plans," and that they are made to be followed.
Dave DeBruin of 100th Street shared Berdan's concern.
"It looks like there was opportunity for input through some of this process, but I would have thought that if you were talking about things that would impact property lines you would have contacted the owners," DeBruin said.
Causier again said it was a preliminary plan and not detailed to that extent.
"Am I correct that future decisions will be made by reference to this plan?" DeBruin said. "And so it seems to me that the appropriate time, then, if you're talking about things that are going to obviously impact property owners, is to do it in conjunction with the development of the plan, not when the ... plan has been adopted, and then it's kind of a done deal."
Council members appalled
Berdan said she was appalled by the plan and thought the representation on the steering commmittee was skewed.
"When this first came up, I asked the mayor if there were going to be people of all areas, of all opinions, so that there was a balance of opinions. I was told there would be, I volunteered to be on the committee, and I was not taken up on that offer," she said.
Her colleague in the 7th District, Alderman Donald Birschel, was just as appalled. He said the steering committee was not represented by anybody from the 7th District, yet of the nine major undertakings affecting sidewalks, four of them impact the district.
The connection of Center Street bothered residents who live near Mayfair Mall, and are separated by Mayfair by a fence that they feared would be opened for a bike passage. Again, they were told that engineering decisions would be considered specifically.
The plan is the product of a steering committee made up of community residents, led by city staff, consultant Toole Design Group and representatives of the Wisconsin Bicycle Federation. It proposes the addition of almost 92 miles of marked bicycle routes and roughly 23 miles of sidewalk for pedestrians, with a goal of increasing ridership and walking. It has been about nine months in development and has been the subject of two open houses attracting about 100 people.
The commission directed Toole Design Group to revise the plan to address resident concerns, working with Berdan and Birschel. It will return to the Plan Commission Nov. 11.