Business Spotlight: Guitarist Kirk Tatnall plays — and passes it along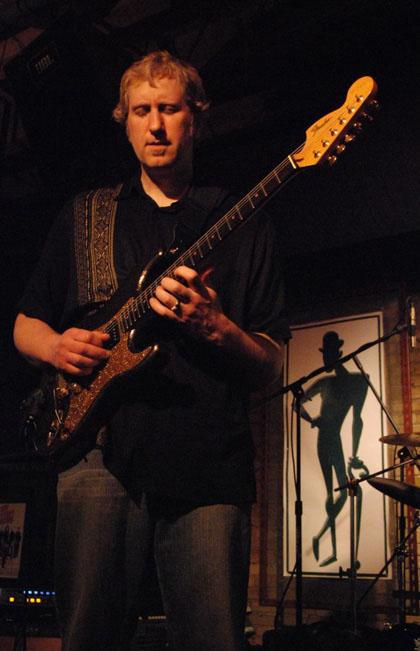 Kirk Tatnall got his first guitar gig at age 5.
More than 40 years later, he makes his living making music. And writing guitar books. And teaching.
"To be a working musician in Milwaukee, you have to make nickels and dimes from a lot of different sources. That's part of the game. The teaching and the performing, that's how you have to do it. You kind of have to diversify," said Tatnall, owner of Kirk Tatnall Guitar.
It all started at St. James Catholic Church in Franklin with a group of visiting guitarists.
"Apparently, I was almost out of control every Sunday. I could not stop myself from pretending to play along and dancing in the aisle. And after church one Sunday — I still remember the conversation — my parents asked one of the leaders of the group if I was too young to learn guitar. And the group leader said, 'No, I'll give him lessons.' And I was three and a half."
Lessons at Foust Music in Bay View quickly followed. And, although he was miffed to be stuck with an acoustic guitar — "I remember being very upset that I couldn't get an electric guitar," Tatnall laughed — he was happy to be learning.
"I feel really lucky," Tatnall said. "Even before I played the guitar, I was doing things like banging on pots and pans. And my parents picked up on that."
By 5, Tatnall was playing weekly at mass.
By 16, he was studying at the Wisconsin Conservatory of Music.
As he approached 18, Tatnall committed once and for all to the musician's life.
"The thought went through my head that if I didn't go for music right away, I would never ever come back to it," said Tatnall, who admitted considering a career in the trades just in case. "Fortunately, my parents supported me, and I went to school for music. But I made the decision right then and there."
He worked odd jobs in restaurants for years to make ends meets.
But, by 25, Tatnall found some of the financial stability he had been chasing, taking a job as a teacher at the Academy of Music in Menomonee Falls. He spent nearly 20 years at the academy before opening his own studio in 2011 in Tosa, where he and his wife have lived for nearly 10 years.
"Teaching enables me to still be a practicing musician, because it affords me the ability to constantly work on my craft all the time. And it enables me to earn a living and still do that without having to go to a 40-hour-a-week job that is non-musically-related," said Tatnall, who raised his kids, recorded 10 CDs, wrote five instructional books for Hal Leonard music publishing and played throughout the United States, while teaching.
"It's also really enjoyable just to share music with people," said Tatnall, who averages 45 to 50 lessons a week. "Sharing that and keeping the music alive is a good thing, an important thing."
JUST THE FACTS
BUSINESS:Kirk Tatnall Guitar, 7611 Harwood Ave., Suite G
PHONE: (414) 395-5475
OWNER: Kirk Tatnall
INCORPORATED:2011
TYPE OF BUSINESS: guitar lessons
PEARLS OF WISDOM: "I think an important part of teaching is just keeping it going, passing down the information and keeping the music going."
E-mail Newsletter
Your link to the biggest stories in the suburbs delivered Thursday mornings.

Enter your e-mail address above and click "Sign Up Now!" to begin receiving your e-mail newsletter Get the Newsletter!