Business Spotlight: On a quest for good brews, they found a World of Beer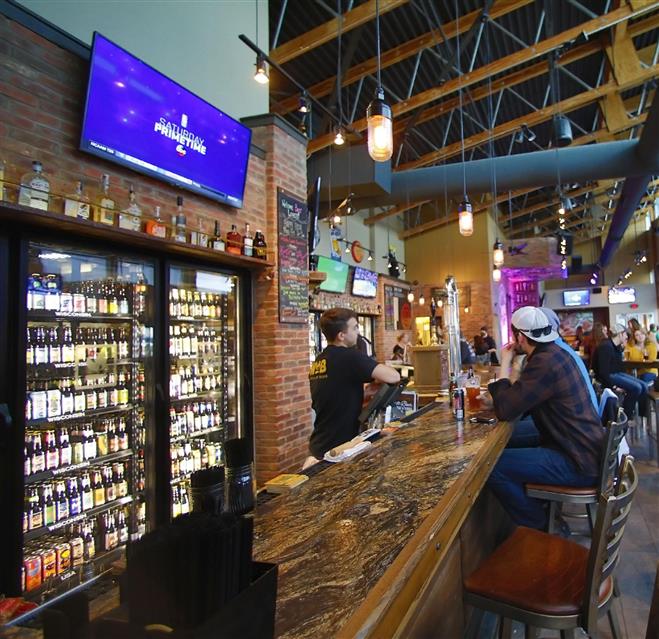 Adam Buttina and his partners are on a quest for the best beer.
They're taking their search for the grail of ale one growler at a time, sampling suds wherever they can find them, from social media to beer festivals and every upstart brewery in between.
Good thing they own a tavern.
"A lot of bars these days are slowly going over to the craft beer scene," said Buttina, who owns World of Beer tavern with partners Adam Chwala and Jeff Ferchoff.
Takeout offerings, like make-your-own six-packs and growlers (half-gallon jugs that customers can fill and refill), have been especially helpful in spreading the word about WOB's more than 500 bottled beers and nearly 50 on-tap craft varieties.
"I think it's helped us quite a bit," Buttina said. "You look at a lot of local beer stores — you look at Ray's, we have Malt Shoppe right down the road — they have either altered their way of business to include tap rooms or they offer growlers to go. Since we're more of a showcase for a bunch of great breweries and not just one brewery, why wouldn't we let our guests have that option? It was common sense."
It's also the culmination of years of work and study within the hospitality industry.
Buttina and Chwala met in college at a time when, for many, sampling hops is practically an undeclared major.
For Buttina, his avocation just happened to help pay the bills. He worked at the Great Dane in Madison while attending the University of Wisconsin, then did a short stint in Milwaukee with various taverns and bars before heading to Chicago, where he ended up in hospitality.
An opportunity with a unique restaurant/club hybrid brought him back to Milwaukee, but things didn't go quite as planned so he began looking for a new venture.
He got his chance in 2014, when World of Beer opened its Tosa location. It was the second in the franchise — World of Beer opened its first location on Brady Street in 2012. But the owners were looking to expand beyond beer and live music, so Buttina came on board to explore adding tavern fare and other offerings, like craft brews.
"We're trying to be a neighborhood gathering place, where people can immerse themselves into a craft beer experience."
An experience that, Buttina said, is constantly evolving.
"Craft beer — it's never the same. It's always growing. There's always something to learn, and with all these new breweries popping up — I've heard about a handful popping up in the Milwaukee area just this summer — there's always some new style. Everyone's always pushing the limits."
JUST THE FACTS
BUSINESS:World of Beer, 418 N. Mayfair Road
PHONE:(262) 770-3902
OWNER: Adam Buttina, Adam Chwala and Jeff Ferchoff
INCORPORATED: 2014
TYPE OF BUSINESS:tavern
PEARLS OF WISDOM: "That's that only way you're going to know the beer. You do a little tasting."
E-mail Newsletter
Your link to the biggest stories in the suburbs delivered Thursday mornings.

Enter your e-mail address above and click "Sign Up Now!" to begin receiving your e-mail newsletter Get the Newsletter!