Café Perrin a neighborhood spot serving fresh, local food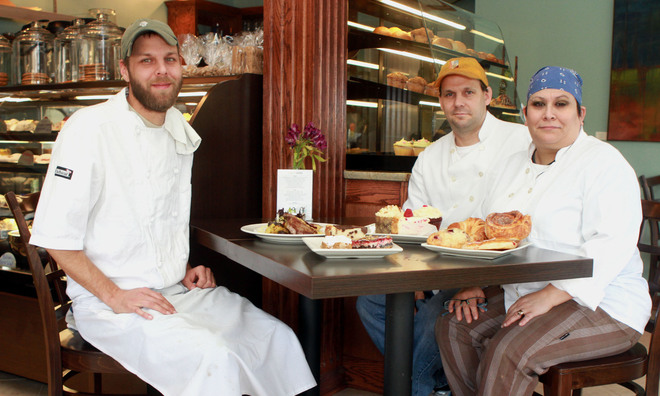 Sometimes a neighborhood is the perfect combination of location and ambience to attract great restaurants. Washington Heights, on the eastern border of Wauwatosa, is such a neighborhood.
Vliet Street, a main artery in the Heights that takes you from Wauwatosa into Milwaukee, is where Café Perrin opened its doors about a month ago.
Co-owned by Perrin Luna (the former pastry chef for Broadway Bakery) and Joe Schulte (chef of the former Broadway Bistro and Broadway Bakery), Café Perrin brings a stylish eatery just two doors down from the well-known Meritage.
It's almost too bad that Café Perrin just opened - their outdoor patio is so attractive it seems a shame that eventually everyone will have to dine inside. But the good news is that the interior is bright and airy and gives a comfortable view of either the streetscape of Vliet or the tempting desserts and baked goods in the display case.
The menu at Café Perrin is continental with touches of many cuisines. Some signature dishes for breakfast or brunch are Corned Beef Hash ($8.95), Crème Brulee Oatmeal ($9.95) and Morning Bun French Toast ($7.95). For lunch you'll find a variety of salads, sandwiches and wraps. For dinner, some featured dishes are Grilled Pork Chop with Apple ($18.95), Truffled Lobster Mac 'n Cheese ($23.95) and the Friday Fish Fry ($10.95).
"We like to think of ourselves as a neighborhood restaurant in a great location," Luna said.
"We serve good food, made from fresh, local ingredients. We serve all day, every day and make everything from scratch whether it's breakfast, brunch, lunch or dinner - or our baked goods, which are made right here in the restaurant."
Whether you're looking for a new spot for coffee and a decadent breakfast or a nice place for date night, Café Perrin offers a little something for everyone.
The Basics
NAME: Café Perrin
ADDRESS: 5901 W. Vliet St., Milwaukee
PHONE: (414) 727-0860
WEBSITE: www.cafeperrin.com
FARE: continental, fresh, local
HOURS: Breakfast and lunch are served from 7 a.m. to 4 p.m. Monday through Friday. Brunch service is 9 a.m. to 3 p.m. Saturday and Sunday. Dinner is served from 5 to 9 p.m. Tuesday through Thursday and from 5 to 10 p.m. Friday and Saturday.
PRICE RANGE: $7.95 to $24.95 (approximate)
RESERVATIONS: accepted
HANDICAP ACCESS: yes
LOOKING TO 'GRAB A BITE'?
"Grab a Bite" is an informal look at the food scene in the Wauwatosa, Brookfield and Elm Grove area by freelance writer Karen Waldkirch. Whether you're looking for a place for a date night or a casual spot for lunch, Waldkirch will be out and about scouting eateries for you. If you have a suggestion for a column, email her at kmwaldkirch@yahoo.com.