Carmelite Home for Boys in Wauwatosa makes lasting impressions on local boys' lives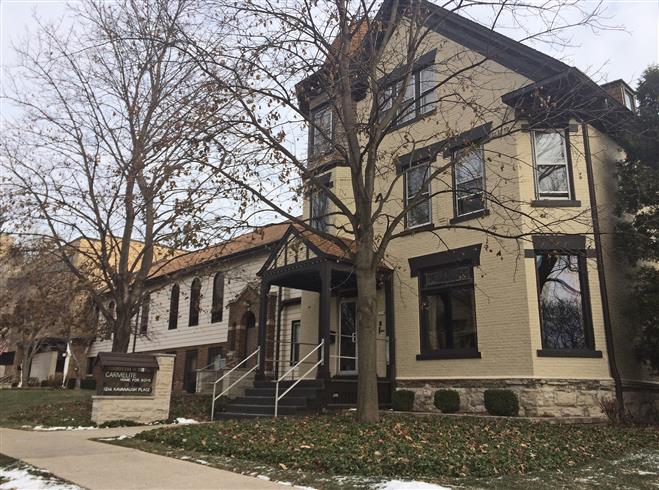 Maurice Jones was 15 years old when he was sent to Carmelite Home for Boys in Wauwatosa.
Carmelite was Jones' next step before he could rejoin the community. Compared to his stays at Ethan Allen School for boys and Lincoln Hills correctional facility, Jones said Carmelite was a "peaceful, educating environment."
"They treated you fair and gave you plenty of room to grow," said Jones.
That was in 1985, when Jones was learning the consequences of gang involvement, "which led to a lot of mischief and fighting."
Today, Jones is 44 years old with a wife and five kids in the Milwaukee area.
For the past 10 years, he has revisited the Carmelite Home for Boys, a treatment center for boys ages 11 to 17, to give back what was given to him.
"It's always important for us to go back and share our experiences because you can actually relate to what the young fellas are going through and experiencing," said Jones.
"You can get more out of them than anybody else can because they can trust you because you been through it."
Carmelite Home for Boys is embedded in a neighborhood near Wauwatosa's Village on Kavanaugh Place. It has kept a low profile in the community, and staff said they are happy to keep it that way.
A change in purpose
Due to the nature of the home's treatment, Michael Chmielewski, the home's supervisor of social services, said it is a positive thing if "neighbors don't have time to think twice" about their presence. "We don't want any poor feelings or anxiety."
The Carmelite Sisters own and operate the boys home, which was founded in 1916 and opened in Wauwatosa in 1917. While Carmelite is a Catholic religious order, the boys home maintains spiritual autonomy and does not require attendees to be Catholic.
The Carmelite Home for Boys used to be a boys orphanage, but in the 1970s it shifted to become a treatment center.
Juveniles are assigned to Carmelite by the court to help address their mental or emotional needs before they return home or go back to school. It is an alternative to a juvenile detention center.
The average length of stay is around three months, but some boys stay up to a year. Jones stayed at Carmelite eight months. Fifteen boys live at the Home for Boys, but it can house up to 40.
Meeting needs
James Lewis, executive director, described the treatment model as "wraparound," defined as "wrapping services around the kid."
"We're not able to change the economic situation of a boy's home, but you individually can change the cycle," said Lewis.
Lewis used to work as a parole agent for adults and kids, but favored his work with youth because "the behaviors kids exhibited weren't crystallized. You had a chance to change them."
Every day at Carmelite is highly structured, with a prompt wake-up at 7:30 a.m., followed by breakfast and then school.
Carmelite has an accredited in-house school with one full-time teacher.
Boys may enter at all times during the year with varying educational backgrounds. Some sophomores in high school have entered with a third-grade reading level. Chmielewski recalled a boy who learned to write his name for the first time at Carmelite at age 17.
After school, boys can participate in "wholesome recreational activities," said Chmielewski, like playing basketball, or going to Milwaukee Bucks games as a group on the weekends.
"Some of these kids are in chaos and (Carmelite) just gives them a time out," said Chmielewski.
Time is also scheduled to include individual and group therapy.
Lasting lessons
Jones said he still leans on what he learned at Carmelite.
"Settings like that helped me in my life because I had an opportunity to experience being around so many different types of nationalities and people. Back then, I was quick-tempered. I didn't think before I reacted. Now, I use my words more and think before I act," said Jones.
As treatment advances, boys can earn weekend passes to visit home. Toward the end of their stay, they are reintegrated into the Milwaukee Public School system.
None of Carmelite's young people go to Wauwatosa schools.
"It is always important for those young guys to be able to go home and see their families so they know upon release they have something to look forward to," said Jones.
Earning freedoms from Carmelite also helps to build trust.
Jones said: "It's giving you — as a person that's maybe not been trusted in certain instances — they're showing you trust. They're giving you an opportunity to earn your trust back."
Many boys who leave Carmelite return to share success stories of earning honor roll status or news of high school graduations.
Staff recalled one boy who shared that he would be the first in his family to graduate from high school. Carmelite staff bought him a suit to wear while walking across the stage to receive his diploma.
The goal is to make Carmelite as familial as possible, those who work there say. Every year, boys eat a Thanksgiving meal together and have a Christmas party.
"You can try to get the kid to internalize enough strength to be successful coming back to a home or a neighborhood — to cope with the other things that got him in trouble," said Lewis.
Since being discharged, Jones said he left Carmelite with a "head start."
"After I got out of there, Mr. Lewis was somebody that I stayed in contact with throughout the next 30 years. I still talk to him right now. That's my mentor," said Jones.
He added: "Even when I was finding myself repeating some of the things that led me up to there, I had a conversation with Mr. Lewis and he helped walk me through some of those things right now today."