Crafty partners take a Twirl at retail shop
Store will feature many unique items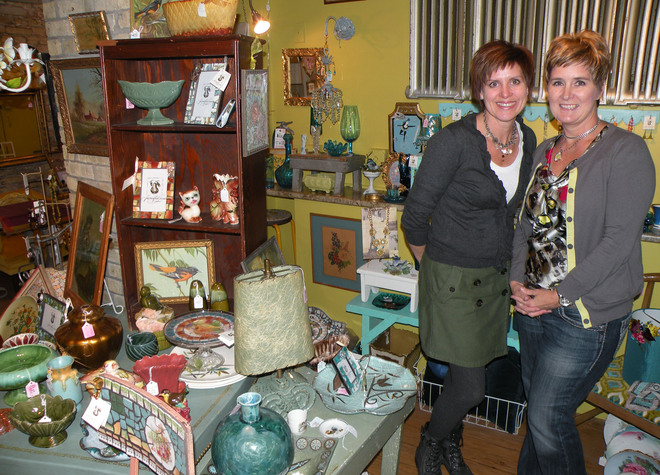 Kim Jenkins and Penny Stark opened their new store in Wauwatosa in April, but you won't find anything new for sale … and that's a good thing.
Twirly Birds, 7532A W. State St., sells vintage finds, one-of-a-kind, handcrafted items and charming repurposed treasures that make the home warm and inviting.
Shoppers will find a variety of vintage and refurbished items such as furniture, mirrors, picture frames, fine China, pottery and other hard-to-find pieces. The items on sale at Twirly Birds are a mixture of hand-made pieces from Jenkins and Stark's collection, as well as things obtained from estate sales and other sources.
The two women, who have been friends for the past 13 years and share a passion for decorating, previously sold their items at local craft fairs. But for the past few years they've kept an eye on the 400 square-foot State Street store as a possible location if they ever decided to open a business. So when the location opened up late last year, they decided to take the leap and open Twirly Birds.
"For both Kim and I, this was the right time to give Twirly Birds a go," Stark said. "Our children are a little older now, which gives us the extra time to invest here. So far, the reaction from the community has been wonderful. We haven't had a disappointing month."
Twirly Birds is an occasional store, which means it is open only on select and varying days throughout the month. Every couple of sales, the women change up displays and merchandise as a way to offer new pieces to customers. And with the holiday season right around the corner, the store and its merchandise will have a Christmas theme later this month.
Twirly Birds will be open from 10 a.m. to 6 p.m. Nov. 15, 10 a.m. to 6 p.m. Nov. 17, noon to 8 p.m. Dec. 1, 10 a.m. to 9 p.m. Dec. 2, 10 a.m. to 6 p.m. Dec. 3, noon to 8 p.m. Dec. 8, 10 a.m. to 6 p.m. Dec. 9, 10 a.m. to 6 p.m. Dec. 10, 10 a.m. to 6 p.m. Dec. 13, 10 a.m. to 6 p.m. Dec. 15, and 10 a.m. to 6 p.m. Dec. 20, The store is also open by appointment.
For more information, visit www.twirlybirdsdecor.com, email info@twirlybirdsdecor.com, or call Stark at (414) 429-2548, or Jenkins at (414) 573-9845.
If you would like to suggest a business to be featured in the Business Spotlight, send an e-mail to news@cninow.com or call (262) 446-6643.
JUST THE FACTS
BUSINESS: Twirly Birds
ADDRESS: 7532A W. State St.
PHONE: (414) 429-2548 or (414) 573-9845
ONLINE: www.twirlybirdsdecor.com
OWNER: Kim Jenkins and Penny Stark
INCORPORATED: 2011
TYPE OF BUSINESS: vintage and handcrafted items