Cranky Al's: Hand-cranked food served with a side of community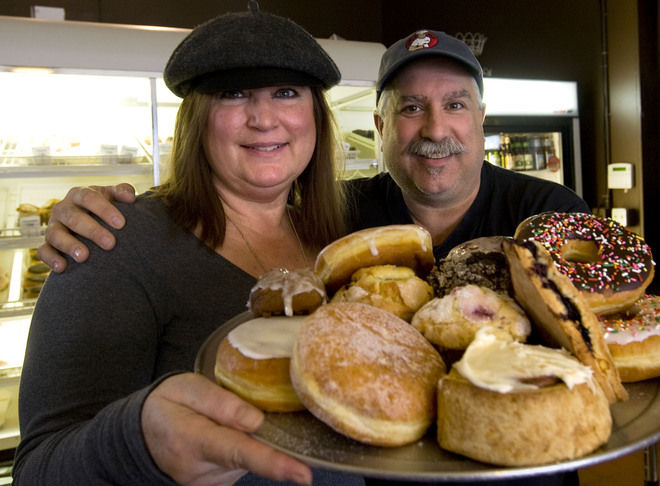 It is rare to find as true a sense of community as that at Cranky Al's in Wauwatosa.
The atmosphere is warm and eclectic, and everything is served with a slice of Al's trademark wit. Let's just say you'll feel right at home, which might mean Al will yell at you - but only a little.
Opened in 2006, Cranky Al's is owned by Susie Brkich who, along with her husband "Cranky" Al, creates and serves homemade food six days a week. Both of them are hands-on in the business and are there almost constantly, which is, no doubt, part of the secret of their success.
A popular breakfast spot on Tosa's east side, you'll have to wait in line with the regulars (there are many), but it's worth it for the hand-cut, handmade baked goods and coffee. The crullers ($0.99) are one of the most popular items, followed closely by the fritters ($1.95) that Susie describes as "as big as your head." And, of course, there are the donuts, which are sublime, along with a butter-cream filled cupcake called The Mostess Fupcake ($2.25).
Wednesdays through Saturdays, Cranky Al's serves pizza in three sizes: personal, 14-inch and 16-inch. Extremely popular are the Cranky with sausage and pepperoni ($10.50/$15.25/$17.50) the Nikki-Knak with artichoke heart, goat cheese and fresh garlic ($13/$17.25 /$21) and the Freshtable, topped with fresh veggies ($13/$19.50/$22), as well as the garlic bread ($3.50-$8.25.) There also is a Friday Fish Fry ($10.95) and handmade chicken strips ($9.95).
As Susie Brkich explains, however, it's the atmosphere that gets people coming back to Cranky Al's: "People can always expect the unexpected here. It sounds funny to say it, but the dysfunction is something people feel comfortable with!"
The Basics
BUSINESS: Cranky Al's
ADDRESS: 6901 W. North Ave., Wauwatosa
PHONE: (414) 258-5282
WEBSITE: CrankyAls.com
FARE: baked goods and pizza
HOURS: Bakery is available from 6 a.m. to noon Tuesday through Sunday, and pizza is available from 4 to 8 p.m. Wednesday through Saturday
PRICE RANGE: $0.99 to $22 (approximate)
RESERVATIONS: No, although private parties are held here.
HANDICAP ACCESS: Yes, in the back.
LOOKING TO 'GRAB A BITE'?
"Grab a Bite" is an informal look at the food scene in the Wauwatosa, Brookfield and Elm Grove area by freelance writer Karen Waldkirch. Whether you're looking for a place for a date night or a casual spot for lunch, Waldkirch will be out and about scouting eateries for you. If you have a suggestion for a column, e-mail her at kmwaldkirch@yahoo.com.