Developer brings a faded North Avenue building back to life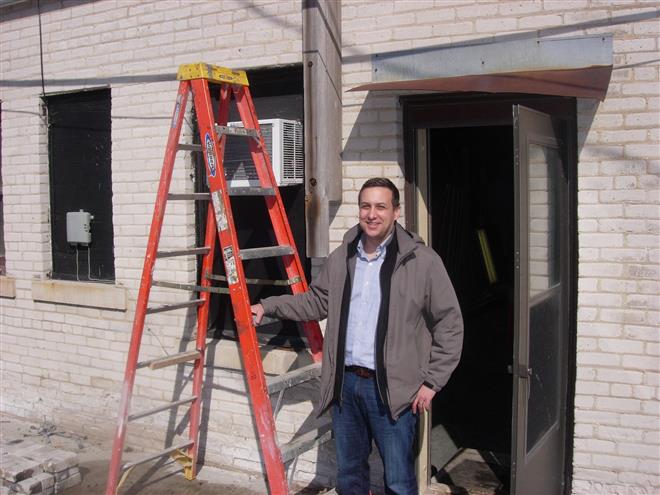 Joshua Jeffers has jumped into the development business with both feet.
In just a few years — after working for a private equity fund and with a freshly minted master's degree in public policy from Harvard — he has accumulated 16 Milwaukee-area properties and gone about re-creating them.
Five are under construction at the present time, including the building at 65th Street and North Avenue in Wauwatosa, an old building lined with dated enterprises that is being transformed to house Hue Vietnamese Cuisine.
"There were two vacant suites on the end there, and then there was a hair salon," Jeffers said. "There was like a psychic, like a tarot card reader, or something — and there was another vacant suite (and) a nail salon."
More evidence of life
East Tosa Guitars, a long-standing tenant, occupies the central storefront. The addition of Rosencutter Fitness & Performance on the east end of the building, and Hue in the western half are evidence of the continued commercial expansion of East Tosa.
Inside the boarded-off, 3,400-square-foot suite for Hue, construction workers have stripped the building to the studs, taken down walls and firmed up the beams. New concrete footings and a new polished concrete floor will be going in, the roof has been rebuilt and Jeffers expects to deliver what he called "a vanilla shell" to the restaurateurs in mid-April. They have set their sites on a late June opening.
A total rehab
Jeffers bought the building in May for $337,500, but he will have spent a total of about $1 million when it's ready to go. He's gotten help in the form of $90,000 in Community Development Block Grant funding from Wauwatosa and $250,000 from the Milwaukee County Revolving Loan Fund, which is administered by the Milwaukee Economic Development Corp.
He said rents will run in the midteens per square foot, with tenants paying their share of property taxes, utilities, property insurance, snow removal and other costs.
Jeffers could have built new for what he's spending, he said, but his interest lies in historical preservation, and landing Hue raised the stakes.
"It's a total rehab," he said of his project — including the mechanical facilities, electricity, plumbing and new front glass. Built in the 1920s, the building had been owned by a family trust since the 1960s and had fallen to seven or eight family members, none of whom lived nearby, he said. Deferred maintenance had taken its toll.
Absentee landlords
Alderman Joel Tilleson, who is active in the development of East Tosa, said a lot of North Avenue buildings are in a situation similar to the one Jeffers bought.
"Most of these properties are owned by people who no longer live in the Milwaukee area," he said.
He and Meg Miller, head of the East Tosa Alliance, have been soliciting developers in the area, "and encouraging them to take a look at some of these properties," particularly those on the stretch from 68th to 60th Streets, which has been slower to develop than the blocks west of 68th.
"I perceive this to be like a revitalization," Jeffers said of North Avenue. "There's definitely a lot going on around here, and I certainly was attracted to that."
Not planning on a restaurant
Jeffers, for his part, said he hadn't planned on a restaurant.
"I wanted to get newer tenants, quality tenants, good tenants for the neighborhood, whatever they might be," he said. "You know, I've been to Bel Air Cantina on just a random weekday night — you have a two-hour wait — and I thought to myself, you know, a restaurant would good over here."
Building a patio behind the building ignited interest.
"Ever since I replaced this patio, it was just like a magnet for every restaurant group," he said. "I was barraged by restaurants that wanted to open here because outdoor seating is such an amenity to have."
Historical rehab, plus
Hue was connected with Jeffers through city officials and the East Tosa Alliance, Tilleson said.
Among other historic rehab projects, Jeffers has rehabilitated the Mitchell Building, which is on the National Register of Historical places. It's an ornate, so-called Second Empire-style structure built in 1878 at the corner of Michigan and Water Streets.
But his interests are not limited to historic preservation. He's involved in an indoor sports complex in Glendale and is working on a couple of assisted-living residences for adults.