Environmental group investigating sewage leaks into Menomonee River in Wauwatosa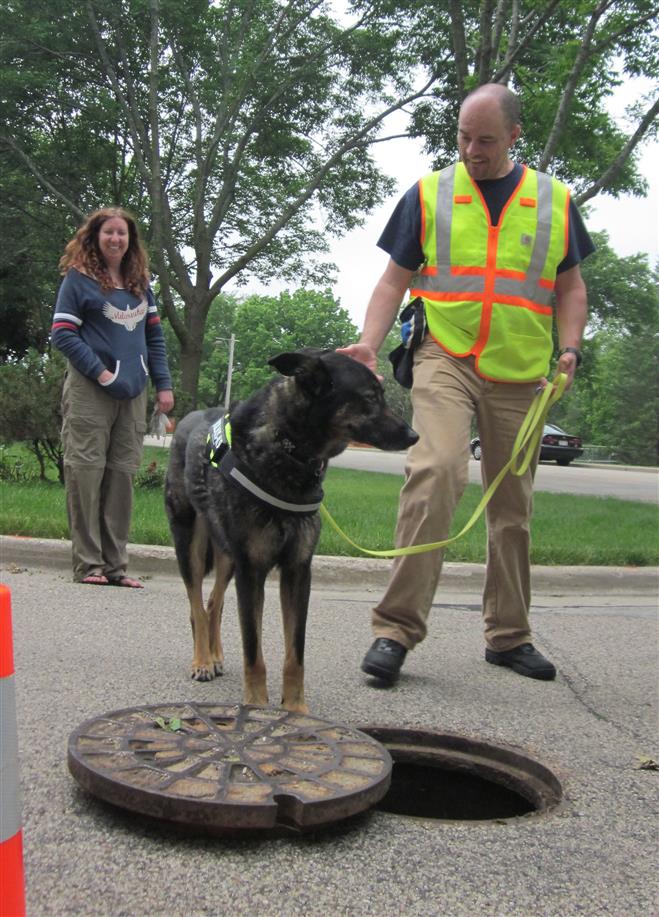 After finding human sewage entering the Menomonee River through 94 stormwater pipes in and near Wauwatosa between 2008 and 2012, Milwaukee Riverkeeper is trying to identify the sources of the problem.
Cheryl Nenn, riverkeeper with the organization, said sewage could be getting into the river because of old pipes. Often sanitary pipes carrying sewage are put in the same trenches as stormwater pipes carrying rain to the river. If there are leaks, the fluids can mix.
Another source of contamination could be "screw ups," Nenn said. Sometimes during construction, a sanitary pipe could accidentally get connected to a sewer pipe, sending sewage straight from the toilet to the river.
With a dog named Sable, contracted through Environmental Canine Services, a team assembled by Milwaukee River Keeper opened up manholes throughout the city June 19 and 20. Sable sniffed, and barked when he smelled human sewage.
Sable flagged fecal contamination at a manhole on the Menomonee River Parkway just east of Charles Hart Parkway. He also barked near Menomonee River Parkway and Hoyt Park Drive, and near 85th Street and Stickney Avenue.
In the past, the group has also found human sewage at Underwood Creek between 115th Street and Bluemound Road. Nenn said they believe the problem there is a leaky force main, which could be resolved as MMSD plans to replace it this summer.
Before looking at other possible fixes, the group is waiting on results from the UWM School of Freshwater Sciences, which is testing DNA samples from the same sewers Sable smelled to double check the findings.
Then, Nenn said she hopes to work with city officials to address the problem. This could include further tests with smoke or dyes at identified "hot spots," and eventually fixes to the infrastructure.
Milwaukee Riverkeeper, which has been working in partnership with the School of Freshwater Sciences since 2008, received funding from the Environmental Protection Agency and the Southeastern Wisconsin Watersheds Trust for the project.
Nenn said the group's goal is ultimately to make the Menomonee River, as well as other rivers in the region, clean enough again for swimming, fishing and boating.
"We've had people say our group should just educate people not to use the waterways," Nenn said. "That's unacceptable. It should be our right to use our waterways and you shouldn't have to worry about what's in them."