Even with changes, high school friendship stays the same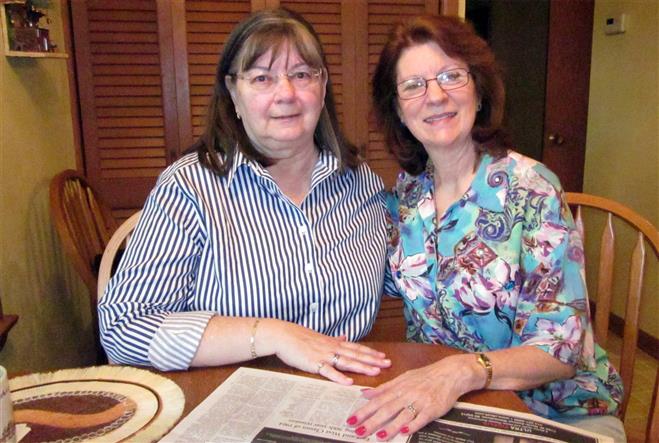 A lot has changed since the class of 1964 has graduated from Wauwatosa high schools. City Hall used to be a convent, Radisson Hotel was a school house and Mayfair mall was a big field.
But after years of being separated, two Tosa West alumnae, Kathleen Dunn and Lynn Leider, show how some things never change.
"As we have all gone through the last 50 years of our life, we have so much more in common than we thought we did," Leider said.
"Getting together like this, it brings back memories that you never knew you had," Dunn added.
The class of 1964 recently reunited for four days of reunion activities, including a bus tour of Wauwatosa and the class's old "haunts;" 50s- and 60s-style karaoke; and more.
Dunn remembered the Tosa West school cheer and all the names and faces of its cheerleading squad.
Leider recalled her class being the ones to initiate many of Tosa West's traditions, like its green and white school colors, a senior prank boulder that became a message board in the front lawn and choosing the school mascot, the Trojans, which made all the boys snicker while voting, she said.
Dunn and Leider described themselves as average kids who were also "theater geeks" in high school. They were the first class to start at Tosa West, which had been built to house overflow from the former Wauwatosa High School. The original Tosa West is now Whitman Middle School.
Ever since they became friends, Dunn and Leider planned to be roommates at University of Madison-Wisconsin. Unfortunately, Dunn had to move to Delaware her senior year and never got to graduate from Tosa West.
"We have been away for 50 years, but we still call Tosa home," said Dunn, who still lives in Delaware.
Leider, on the other hand, upheld a Tosa legacy that she never thought was in her future. Leider, who is still a Tosa resident, is the coordinating director of Wauwatosa Children's Theater, a program her grandmother founded in 1934. Her mother assumed the role as director from 1959 to 2003. Leider then replaced Lois Weber, who passed away last September.
Leider also became the founding director of Germantown High School's theater department.
"I never thought that I would end up in my grandmother's shoes starting something from the ground up," Leider said. "It must be a full-circle thing."
For Dunn, graduating from high school meant an opportunity for her to pursue higher education, beyond the antiquated opinion that women should just get married and be a housewife.
Dunn's career evolved from a home economics teacher to technology coordinator for Delaware's school district, getting her executive master's in business administration and working with a summer space program for teachers in graduate school.
"It was one of those things you never could have planned, but when the opportunity presented itself, you say, 'let's go.'"