Gay Ex-Wauwatosa police officer says she endured years of harassment, gets $77k settlement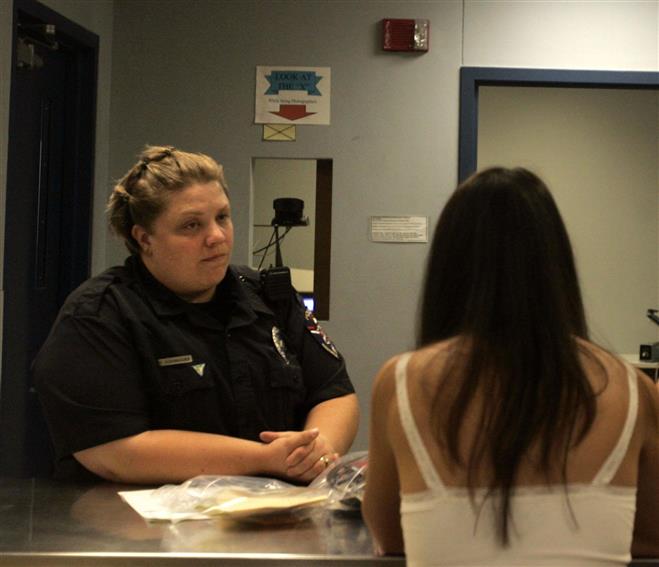 The city of Wauwatosa and its insurance carrier have agreed to a $77,000 settlement with a former city police officer who maintains she was sexually harassed by other department members.
Robin Schumacher and the city reached the settlement in July after she filed a discrimination complaint with the state Department of Workforce Development, alleging repeated harassment, based on sex and sexual orientation, by other officers and command staff.
Before the settlement was reached and the case dismissed, a DWD investigator found that Schumacher's complaints were "believable" and warranted a hearing by an administrative law judge.
Her complaint describes in graphic detail alleged sexual harassment against Schumacher by members of the department before her resignation from the department. Documents obtained by Wauwatosa Now from the DWD include a copy of Schumacher's resignation later and 26-page document in which she states she is gay and outlines much of the harassment she said she endured during her time with the Wauwatosa Police Department.
Schumacher is the same officer who was accused by Wauwatosa police in July 2013 of taking pills from the evidence room while she worked there.
In September 2013, Schumacher resigned from the department; she filed the discrimination complaint that same month.
In June 2014, she was convicted of felony misconduct in office for taking pills from the evidence room. Two other charges in the case were dropped. Schumacher was sentenced to 25 months in state prison, but Milwaukee County Circuit Judge Jeffrey Wagner stayed the prison sentence in favor of 30 months of probation.
Schumacher was ordered to spend 30 days in the Milwaukee County House of Correction and maintain absolute sobriety as conditions of her probation. Other conditions of her probation included serving 75 hours of community service at a nonprofit organization, continued substance abuse treatment and counseling and a prohibition on possessing firearms or body armor.
Now, two years after controlled substances and drug paraphernalia were allegedly found in her home, the city has filed additional charges against Schumacher. The police department's public information officer, Lt. Brian Zalewski, said the department hadn't reviewed the incident until this year. He added that the delay might have been due to the pending charges in Milwaukee County, which Schumacher was convicted of in 2014.
Harassment complaint
In the harassment complaint, which she withdrew as part of the settlement, Schumacher told the DWD that she left the department because of harassment and discrimination. The city maintains she left because Police Chief Barry Weber was seeking her termination due to her alleged misconduct.
Schumacher declined to comment.
In investigating her complaint, the DWD investigator found probable cause to believe that the city of Wauwatosa violated the state fair employment law by engaging in or permitting sexual harassment, and discriminating against Schumacher based on her sex and sexual orientation.
Schumacher named at least five officers in connection to the harassment in her resignation letter. Those officers have not been named in this story, as the police department maintains that no officers have been disciplined and — to their knowledge — none have sought legal counsel, according to Zalewski.
Zalewski said the officers named in the complaint would not be able to comment.
SEQUENCE OF EVENTS:
Schumacher's allegations range from co-workers leaving bra advertisements on Schumacher's desk after a detective said in a text message she had "saggy t---," to failing to provide backup during a drug investigation.
"My parents instilled a fight in me, and the Wauwatosa PD completely broke that spirit," Schumacher wrote in her resignation letter. "I am a shattered person after all the experiences I've been through with supervisors at Wauwatosa PD."
According to the department's response to an open records request filed with the Wauwatosa Police Department, there are no written internal complaints about violations of the department's policies regarding harassment made between Jan. 1, 2010, and July 10, 2015.
Weber declined to comment.
The city, through its insurer's attorney, Greg Gunta, denied Schumacher was discriminated against, and denied that she complained to any supervisor about the alleged incidents.
"Complainant's failure to get along with some of her co-workers is a direct result of her own conduct and no fault or conduct of the respondent," Gunta submitted in a formal response to Schumacher's complaint.
Gunta did not respond to repeated requests for comment for this story.
Gunta previously recommended the city settle the case, but the financial affairs committee rejected the proposal, according to city attorney Alan Kesner. The city spent its $25,000 cap on the case, which funded legal bills, including attorney fees, Kesner said. Any cost over that was left in the insurance company's hands to settle or litigate, he said.
The city's insurer, Cities & Villages Mutual Insurance Co., paid $13,000 in the settlement. Additionally, $64,000 was paid by RSUI Indemnity Co., which handles employment liability matters on behalf of Cities & Villages Mutual Insurance Co.
In an interview before the settlement was reached, Alderman Jeff Roznowski, chairman of the financial affairs committee, said he had supported a settlement because it would have kept the case out of a courtroom, which could draw public attention. However, he said others thought it would be best to air it out.
"There were members of the committee that felt strong about that — to have the day in court and have the truth come out," Roznowski said. "But there's the risk of people interpreting the discussion in a different way, and coming out may be not in the best light for the city."
After reading the allegations, Roznowski said he talked to Weber and decided he was not concerned about the department's conduct.
"You're looking at a 'he said, she said' type of situation, and various opinions are there," Roznowski said. "In reading the allegations and in my working with the department, I don't think there was a lot of merit to the allegations."
Mayor Kathy Ehley declined to comment.
Sexual harassment claims
Schumacher's allegations date back to her second year with the department. She said she was hired by the Wauwatosa Police Department in 1999.
According to the DWD complaint, Schumacher said that in 2001 a police officer told a supervisor he should smell her face to see if she had sex recently. The supervisor allegedly laughed at the comment and, when confronted later by Schumacher, said he didn't think he had done anything wrong, the letter said.
There were numerous other incidents, Schumacher alleged, over the course of several years.
By 2013, Schumacher wrote, a supervisor began talking to her more frequently and made many inappropriate comments. When talking about a woman Schumacher had dated, the supervisor allegedly simulated having sex with a woman and said he would "bang the s--- out of her."
In another alleged incident, the supervisor grabbed his crotch, asked her if she "wanted that," and said he could "turn her straight after one night with him," according to Schumacher's letter.
Other harassment
According to the resignation letter, the inappropriate comments allegedly continued.
Schumacher's resignation letter alleges that after she asked detectives not to use the terms "retards" and "window lickers" toward each other because they were offensive, a supervisor told her she would never be thought of as "one of the boys" if she kept asking them to watch what they said. He then allegedly yelled these terms when she was around and asked how she liked that. He also allegedly repeated the phrase "that's so gay" multiple times after she asked a detective not to use it, Schumacher wrote in the letter.
The alleged harassment wasn't limited to sexual comments.
Co-workers allegedly set up a container with signs asking for donations of dolphin-themed items, according to Schumacher's resignation letter.
"My embarrassment grew each day as more officers from other departments and federal agents came into the bureau and were filled in about my squeaky dolphin voice," Schumacher said in the letter.
In the letter, Schumacher said she returned to a supervisor to complain about co-workers making dolphin noises.
Schumacher wrote that she ultimately resigned "due to the humiliation and embarrassment" of the harassment.
City tells different story
The city's insurer's attorney argues that Schumacher left the job to avoid being terminated for "her admittedly illegal conduct and multiple rule violations."
Schumacher resigned in September 2013 after she was charged July 22 of that year with theft of property, possession of a controlled substance, and misconduct in public office. Two charges were dropped, and she was convicted of a Class 1 felony misconduct charge due to a no-contest plea June 25, 2014.
The criminal complaint accused Schumacher of taking several painkillers and anxiety medications from the department's evidence room. According to the complaint, Schumacher told Wauwatosa police and the district attorney's office that she was battling an addiction to painkillers.
However, Schumacher said in her resignation letter that she had not been fully honest when she talked to the district attorney's office.
Schumacher's story of entering the evidence room and resigning is very different from the one the department tells. It goes back to an April 2013 internal investigation related to a 2009 incident in which, Schumacher said, she was previously cleared.
As the 2013 internal investigation moved forward, Schumacher said, she was made to clean out her desk, including medication she used as prescribed to deal with post-traumatic stress after the murder of Officer Jennifer Sebena and other issues. Schumacher claims she was suspended for 11 days after the investigation, and was told to move all medications from her desk to a secure police storage area and designated to be destroyed. The letter said the medications were used both for personal and training purposes.
Schumacher said she kept her personal medications in prescription bottles in her desk drawer. In her letter, she said she used the medication to show the patrol division and reserve officers how to identify the medications in the bottle based on the prescription label.
Further, Schumacher said she kept a bag of her personal expired medications in a locked desk drawer and used the medications to train the patrol division and reserve officers how to identify medications not found in prescription bottles, according to the letter.
While depositing the items, Schumacher said she was "electrocuted" by a heat sealer, a machine used to seal products and package materials using heat.
"I just began entering the property when I was electrocuted with the new heat sealer," Schumacher said in the letter. "The underwire of my bra attached to the electrified heat sealer and after being electrocuted, I was thrown across the room 10 feet into the lockers."
Schumacher said medics who responded asked everyone to leave the room so they could undress her to put an EKG on her. Schumacher said one of her supervisors did not leave the room, and later commented that she had "saggy t---."
When Schumacher returned from suspension, she said she asked repeatedly to retrieve her medications, but her supervisor denied her requests.
"He had taken my dignity, my professional reputation, my safety while working, my self-esteem, self-respect, self-confidence, my voice, my medications that directly affected my physical health and my mental health," Schumacher wrote in her resignation letter. "I could not function."
Schumacher said she was retrieving anxiety medication "that final day" before she was arrested and charged July 22.
"When I was interviewed by the district attorney's office, I shut my mouth about our departmental issues," Schumacher wrote in her resignation letter. "I didn't speak up about the truth. I know I was more fearful to speak up about these issues than to save myself because my self-worth was taken from me at work. I know I was miserable the day I was arrested when I would rather be thought of as a junkie by the district attorney's office rather than explain everything I have addressed above."
Gunta's response calls her allegations a "smokescreen to cover the real reasons for her resignation."
Department policy
Zalewski said the department upholds a policy that defines sexual harassment and how sexual harassment complaints are filed.
Zalewski said employees who believe they have experienced sexual or unlawful harassment should first "make it clear" to the offender the behavior is not wanted. The policy also encourages employees to report incidents regardless of the offender's rank, Zalewski said. Incidents may be reported to a supervisor, a human resources director or the city attorney, he said.
RELATED: Wauwatosa firefighters allege city retaliated against them
Zalewski said Schumacher never filed a formal complaint about the alleged harassment with the police department.
"Any reports that we would receive as supervisors would be promptly and thoroughly investigated," he said.
If the incident is determined to be unlawful harassment or discrimination, disciplinary action may take place.
Current charges
Schumacher is now facing new criminal charges in Walworth County Circuit Court related to the 2013 investigation that were not sought by the Wauwatosa Police Department until earlier this year.
The complaint alleges that the department found several pills when they executed a search warrant on Schumacher's house in July 2013. The complaint was filed April 30, 2015.
The complaint, amended June 22, 2015, charges Schumacher with three counts of possession of controlled substance and one count possession of drug paraphernalia, all misdemeanors.
When asked why charges were filed about two years after pills were allegedly found in Schumacher's home, Walworth County District Attorney Daniel Necci said he only received a referral from the Wauwatosa Police Department in January 2015, adding his office was not the reason for the holdup.
Schumacher has pleaded not guilty. A status conference hearing is set for Oct. 23.
Steven Martinez contributed to this report.
E-mail Newsletter
Your link to the biggest stories in the suburbs delivered Thursday mornings.

Enter your e-mail address above and click "Sign Up Now!" to begin receiving your e-mail newsletter Get the Newsletter!