McKinley teachers flash-mob departing principal in Wauwatosa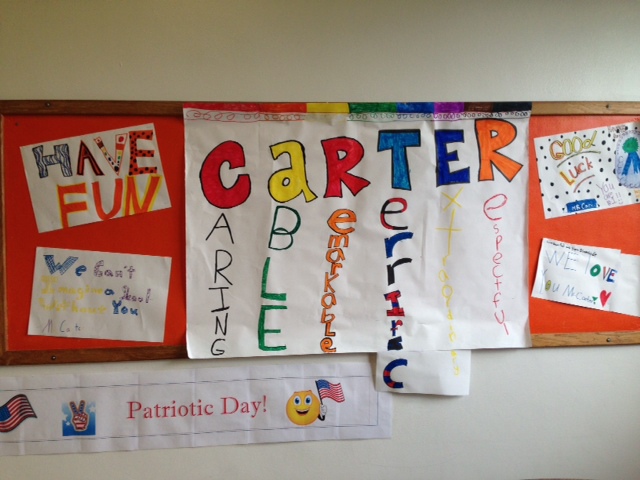 At a student talent show June 4 at McKinley Elementary School, teachers surprised their principal, Mark Carter, when they rose out of the crowd and performed a coordinated dance to the song "Happy" by Pharrell Williams, in a farewell gesture.
Carter will become the principal at Longfellow Middle School this fall, with that school's current principal, Jason Galien, moving to the principal post at the Detention Center School, also part of the Wauwatosa School District.
Human Resources Director Jack Bothwell said the district is in the screening process for candidates to replace Carter at McKinley.
As the speakers pumped "Happy," McKinley teachers danced with posters that read, "We are happy for you Mr. Carter." The teachers had previously choreographed the dance and kept it quiet from Carter and their students. Partway through the routine, the students got to their feet and joined in.
Eliciting cheers and squeals, two teachers ran through the students and pulled Carter to the stage. The whole group clapped along until the music died down and the teachers hailed Carter as he took a seat center-stage. Cheers rang out for nearly two minutes as Carter got up and hugged each teacher.
"Thank you so much," Carter said into a microphone. "I'm going to miss all of you next year."
Carter worked at McKinley for 12 years, seeing many students and teachers through their entire time at the school.
"We're so happy for him getting this promotion, but everybody is so sad to see him go, because he is the heart and soul of our school and has been such a support to everyone and really unified the whole community," said Shana Callahan, a third-grade teacher who helped organize the flash mob.
Callahan said Carter was an especially caring administrator to work with.
"He speaks to us like we're the best staff ever and makes us believe in ourselves when it's hard to believe in ourselves," Callahan said. "He's there at every turn helping us support kids needs."
School Secretary Lisa Winters, who has worked at the school longer than Carter, said he was an active principal, often chatting with kids in hallways and visiting classrooms.
"His respect for and honest enjoyment of the kids just shows in everything he does," Winters said.
Jo Andrae, who teaches first grade at McKinley, said Carter often showed his dedication by making sacrifices to motivate kids. One year, he promised to sleep on the roof of the school if the kids got enough tickets for good behavior. They did, and he followed through. This year he went in the dunk tank.
"McKinley students are always first and foremost in his mind," Andrae said.
Carter said he wanted to move to Longfellow because he wants to work with kids of middle-school age.
"It's tough. With academics, and socially, there's probably no more trying time," Carter said. "But I love that age group. It's never predictable, never the same. Just great kids."
But Carter said he won't forget his time at McKinley and his send-off to "Happy."
"I was caught completely by surprise," Carter said. "I was overwhelmed. It made me sad as well, though, to be leaving them behind."
Looking back on his time, he said, "My 12 years here have been excellent. What I like most about it is it's a combined effort to make this a good school. It takes all of them."
To see a video of the flash mob, visit youtu.be/j_CfT7knIsk.