Hart Park Senior Center braces for continued cuts in funding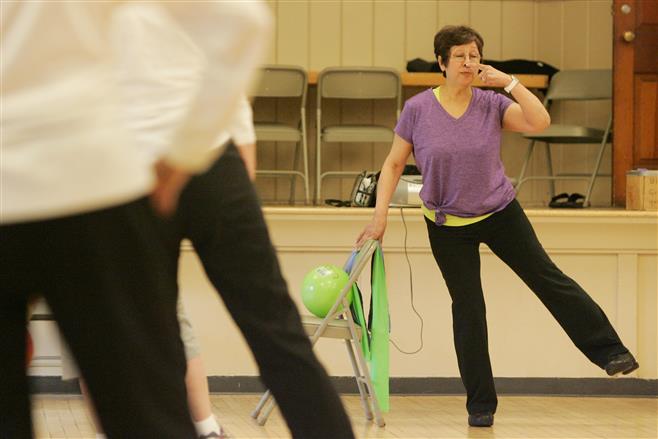 Declining funding for Hart Park Senior Center is leading to the elimination of some low-attended programs and an increase in membership and programming fees, and will change a reimbursement arrangement with the Wauwatosa Board of Parks and Forestry Commissioners, which oversees it.
The annual membership fee has gone up to $21 for seniors age 50 to 62; and $15 for seniors over 62. Nonresidents of Wauwatosa can join for $28 annually.
Fees previously started at $15 for the seniors of 50 to 62 years old, said Merry Johnson, director of the center since its opening in 2000.
"The price we have now was just increased in the last year, and part of that is a direct response to the decreased grant funding," she said.
Increased financial pressure over the years has changed the focus of program fees as well, from providing class participants with a sense of investment in the class to actually underwriting the costs of instructors, she said.
The center has about 850 members, and provides a lunch program that is funded separately.
The Senior Center, 7300 Chestnut St., is paid for largely by Community Development Block Grants, a program of the U.S. Housing and Urban Development. CDBG funding for the Senior Center has fallen by about half in the last decade, from about $170,000 in 2003 to a budgeted figure of above $80,000 for 2013, according to figures provided by city Finance Director John Ruggini.
The exact block grant figure for this year won't be known for weeks yet, which makes planning programming a challenge.
"We budget how much we think we're going to receive, but we don't receive it until June or July of that year, so we may receive $90,000 this year, we may receive $50,000. We've budgeted for a 10 percent reduction from 2012," Ruggini said, adding that the sequester in Washington may have an impact on grant funding this year, as well.
Additional funding to the senior center is provided by gifts, about $7,400 last year; the Parks Department; $19,536; and program services, $3,044.
The center has been operated by the West Suburban YMCA since it opened in 2000. The YMCA hires the staff — Johnson and two part-time employees— and takes an administrative fee, which last year was $23,285. The fee covers financial support, human resources, information technology, fundraising support, and program and operational support, according to YMCA documents.
A second part of shoring up Senior Center funding is having programming and membership fees paid directly to the YMCA, instead of being paid to the parks department, which then reimbursed the YMCA.
"Because it was such a complicated reimbursement process, the Y didn't always receive 100 percent of that revenue, which caused problems," Ruggini said. "And the Y had no incentive to change the fee structure for the program ... because if they weren't getting fully reimbursed, why take the heat for increasing fees if they weren't going to benefit from it?"
The YMCA now has incentive to better align the fee structure with demand, he said.
Finally, the YMCA will use its fundraising expertise to pursue a sponsorship drive to raise $12,000 in annual revenue.
To help coordinate the new efforts, Mayor Kathy Ehley has initiated quarterly meetings with all the Hart Park parties, including the YMCA, and the Senior Center Advisory Board, to increase cooperation.