Author pens heart-felt appreciation for zoo's famous great ape
Author's 'Samson' book benefits heart research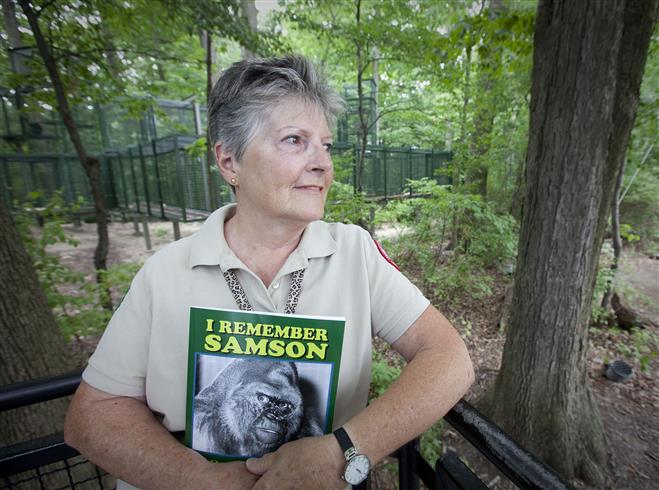 Samson had a unique, dynamic personality. He was large for his age, yet people fell in love with him nonetheless.
And many still remember the 600-plus pound, western lowland gorilla, who lived in the Milwaukee County Zoo between 1950 and 1981, when his untimely death from a heart attack cut his life short, at age 32.
Whenever Zoological Society of Milwaukee Zoo Pride volunteer Darlene Winter was assigned to the gorilla exhibit, spectators always shared similar sentiments about Samson.
Winter, a West Allis resident, has immortalized the iconic primate in her first published book, "I Remember Samson," from which the proceeds will go toward the Great Ape Heart Project. The local zoo is participating alongside Zoo Atlanta to research heart disease in great apes.
Friends and collaborators
Winter has spent countless hours volunteering at the zoo as a member of the Primate Committee, shifting between the gorilla, bonobo and primate exhibits.
Through volunteering, Winter became close friends with Samson's keeper Sam La Malfa, who continued to volunteer at the zoo long after Samson's death.
"He would always come over and we would start talking about Samson," Winter explained, adding that she constantly asked La Malfa why he never wrote a book about the gorilla, who became famous throughout the greater Milwaukee area.
Winter took matters into her own hands and penned the 52-page book, written in collaboration with La Malfa. To Winter's pleasant surprise, "I Remember Samson" was published by Milwaukee-based Mirror Publishing.
"I've been wanting to write a book for such a long time," Winter said. "I've thought about a lot of different stories and this one just came so natural."
A book to save lives
Winter decided to donate her proceeds so gorillas like Samson can receive the care they need and for people to benefit from the program's research.
"Samson died of a heart attack, and I started thinking that if he had the advantages of what we have today for gorillas, he probably would have lived a lot longer," she said. "He died at 32, which is too young for him to die because they can live to be 50 years old. I thought this heart project was very neat."
Forty-five percent of deaths in adult great apes are due to heart disease, according to Vickie Clyde, staff veterinarian, adviser to the Bonobo SSP and co-founder of the Bonobo Cardiovascular Database at the Milwaukee County Zoo.
Through a partnership between the Milwaukee and Atlanta zoos, veterinarians are making great strides in their research, Clyde said. The Atlanta zoo specializes in gorillas, studying the animal through the Gorilla Heart Project, while Milwaukee specializes in bonobos and has the Bonobo Cardiovascular Database.
Great Ape Heart Project
The two zoos are able to help each other diagnose and cure both species. Through their collaborative efforts in the Great Ape Heart Project, they are attempting to find out why great apes get myocardial fibrosis, which is scarring around the heart that leads to heart attacks, Clyde said.
It differs from people, who suffer from artery blockage that leads to heart disease.
"The question that's very interesting to those of us who care for apes and those who care for people is why do people get artery blockage, but apes get muscle scarring?" Clyde said. "So, that's one of the questions we've been working on."
Through the Great Ape Heart Project, veterinarians and researchers have been able to begin echo cardiograms on the apes. Clyde said the apes at the Milwaukee County Zoo are "amazingly well trained" and allow doctors to put devices on them to test their heart rates and blood pressure.
"For the first time, we have been able to measure the blood pressure lowered in response to medication," Clyde said.
The Milwaukee zoo does not have a way to measure blood pressure in gorillas yet, and is working on raising money to do so.
The Great Ape Heart Project has already paid off at the zoo.
Femel, a female gorilla, faced death last spring due to congestive heart failure.
"Through the Great Ape Heart Project we were able to call a cardiologist in Atlanta that treated the gorillas and she made suggestions, and the animal is recovering," Clyde said. "Without that network of specialists I don't know if our old, female gorilla would still be with us."
Because of heart disease, apes are dying at the prime of their lives - an important issue since apes in captivity are small populations, and many gorillas and bonobos are dying before they can produce offspring, Clyde said.
"It has a major effect on the population because we need these genetically unique males to have genetic offspring," she said.
To contribute to the GAHP, "I Remember Samson" can be purchased at the zoo, the Milwaukee Public Museum and the Little Red Book Store in Wauwatosa, or donations can be made directly at the zoo.
For information on the project, visit greatapeheartproject.org.
Remembering Samson
Excerpt from 'I Remember Samson,' by Darlene Winter
"In almost every generation, an animal will be born that is destined to be special and will capture the hearts of the people who are lucky enough to see him/her. Such an animal was Samson the gorilla at the Milwaukee County Zoo. He was believed to be the largest gorilla in captivity and was known worldwide. He was on television, had his picture taken thousands of times, and was mentioned in many books. However, this is the first book that was written in collaboration with Samson's long time keeper and friend, Sam LaMalfa."