Mother continues fight against leukemia after daughter's death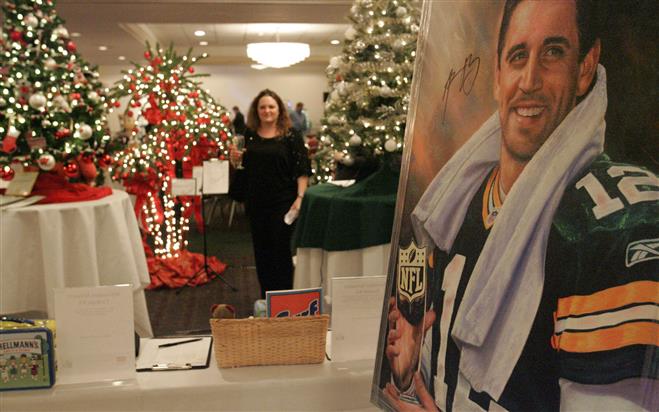 The holiday season took on a different meaning for Karen Wenzel when her daughter, Lindsey Lopez, died due to complications from leukemia Nov. 22, 2010.
Wenzel, wanting to turn the season into something positive for her and others who are struggling with the effects of blood-related diseases, started Lindsey's Voice, an organization that sponsors the annual Trees of Hope fundraiser.
At the event, Christmas trees and holiday gift items are auctioned to raise money for the Leukemia and Lymphoma Society, the BloodCenter of Wisconsin, the Be the Match program and the Center for International Blood and Marrow Transplant Research, which is headquartered in the Medical College of Wisconsin.
This year's fundraiser, held Saturday at the Radisson, 2303 N. Mayfair Road, raised more than $20,000.
"Trees of Hope started as a tribute to her (Lindsey), but it became this other mission. It's a mission to be able to save one more family from that pain," Wenzel said. "Because she passed on Nov. 22, this year it happens to be Thanksgiving, the holidays aren't terribly enjoyable. Last year was hell."
Lopez's story
Lopez was initially diagnosed with a urinary tract infection after visiting a doctor because of back pain.
After her situation intensified - the back pain worsened and red marks appeared on her skin - she went to the emergency room. Once there, she was given an antibiotic and generic painkillers. She already was battling leukemia and didn't know it. The doctor did not order blood tests.
She was carried into the emergency room the following Monday by her husband. The doctor immediately ordered blood tests.
A short time after the tests, Lopez's husband received a call that would forever change his life. The doctor had admitted Lopez to Waukesha Memorial Hospital and was sending an ambulance to pick her up. She was officially diagnosed with acute lymphoblastic leukemia, a version typically found in children.
Through the 14 months she fought leukemia, Lopez was stoic. She had made up her mind that she was going to beat cancer and fought it with a warrior's heart.
After chemotherapy, blood tests showed Lopez was negative for leukemia. Her family celebrated her 32nd birthday on Sept. 25, 2010.
But just a week later, she started feeling sick and was readmitted to the hospital on Oct. 22. There, they ran her through a rigorous chemotherapy program. She died of a fungal infection in her lungs one month later.
"It's just like in the movies. Doctors come and sit down with you and tell you," Wenzel said. "You cannot imagine in your worst nightmares what it feels like."
Not giving up
Lopez's family is not going to let cancer win, even though it took Lopez - a daughter, wife and mother - away from them.
"My attitude is that as long as we keep fighting, cancer hasn't won," Wenzel said. "The minute we stop doing something, it's like saying that you give up, and cancer wins. There are too many families that are facing this."
Through Lopez's battle with cancer, her family became connected with research groups and the BloodCenter of Wisconsin. They decided to do something to prevent other families from going through what they went through. Thus was Trees of Hope Wisconsin born.
With the help of 65 business partners donating everything from Brewers memorabilia and vacation tickets to wreaths, the group was able to breathe life into the holidays. The pre-decorated trees of hope were auctioned to eager bidders.
The second annual fundraiser had a guest who, like Lopez, battled leukemia. His name is Tony Nevarre, and he was diagnosed in May of 2011.
Nevarre battled the cancer, which left him in a coma for 24 days, eventually beating the disease last December and returning to teach at Homestead High School this year.
The most important thing people can do to cope with the disease is talk, he said. Social networks helped him connect with his family.
"You're fighting this horrible disease, and you feel like you're doing it on your own," he added.
Both Lopez and Nevarre were able to find a perfect bone marrow donor. Both of the donors, however, were from out of the country.
Nevarre pushes heavily for people to volunteer to get on the bone marrow donation registry. He also argues for people to donate blood, citing the hundreds of blood transfusions he went through in his treatment.
"It's so great to think that I can see my daughter every day because of some stranger in another country being on the registry," Nevarre said.