It's cold outside — a good thing for the Hart Park ice rink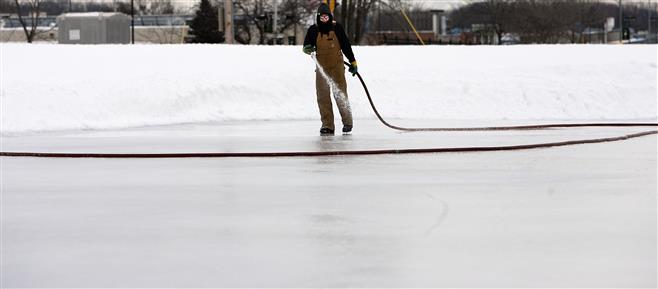 The outdoor rink at Hart Park has been open for a few weeks now, and it's been a pretty good winter for it.
Better than last year, anyway, when days of labor went into building a rink that lasted only about week, park maintenance custodian Bill Dess said.
"They want their ice, so we try to accommodate them," he said.
Making the annual rink is a labor- and water-intensive job.
"Generally, it's got to be cold for about a week, and the ground has got to be fairly frozen. And it's gotta be below zero before I even think about putting the ice down," Dess said. "People have the perception that at 32 degrees things freeze and you can make ice. Well, that's not the case."
When conditions are right, city workers simply spray the ground. The city doesn't even start with a plastic groundcover.
"We do absolutely nothing to it other than add water," he said.
Working in groups of two for safety's sake, a park employee will spray for an hour or so before handing the hose off.
"They usually work around the clock. They'll start usually about 4 o'clock, when the sun's down, because ... it can be really cold, but if the sun's out, it still hampers making ice," Dess said.
Clear skies are best, because clouds hold in the heat, he said.
This year a warm spell after the rink had been made softened the ice and skaters chewed it up, necessitating another round of spraying.
"People were going out there and really cutting it up and digging all the way down to the ground," Dess said.
The curling rink in the Muellner Building is made the same way — by a guy with a hose. A refrigerant in the floor makes it easier to freeze. That rink is open from the first week of October to the end of March. Public skating is available on specified weekend days and during the holidays. The last public skating day this season is Sunday.
On the inside rink, "you can use short sleeves once you get going," he said.
Dess remembers the days when the city would make 10 or 12 rinks throughout the city. The last time he was actually out spraying, a few years ago, three rinks were made, and they lasted just three days.
"It just wasn't cost-effective."