Jose's Blue Sombrero: Tableside fun with a Mexican flair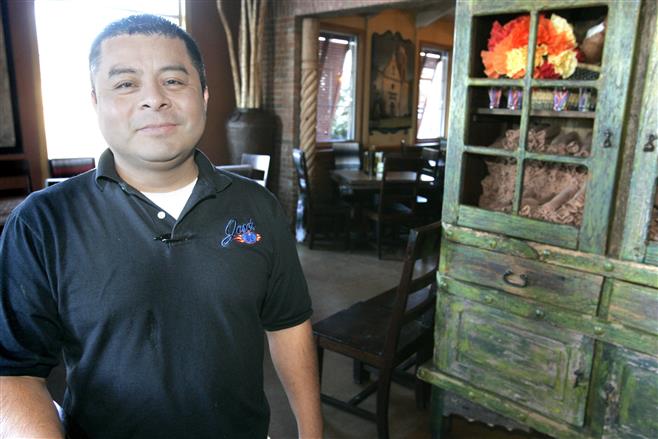 Two words probably come to mind when you think of Jose's Blue Sombrero - tableside guacamole. Hands-down, it's the most popular item anywhere on the menu of this Brookfield Mexican restaurant.
Opened in 2006, Jose's takes its name from owner Joe DeRosa. (DeRosa Corp. is a local restaurant group that also owns Chancery, Parkside 23 and Eddie Martini's.) Located at the corner of Bluemound and Barker roads, Jose's has become a favorite destination of diners looking for fresh Mexican food in a casual atmosphere. The tableside guacamole ($7.99) and tableside sangria ($9 to 18) are just two special touches that Jose's offers.
"Along with our guacamole, we're known for serving really good Mexican food," said Diego Vazquez, manager. "People like our food and our service. We offer casual Mexican dining. It's also a good place for families."
According to Vazquez, Jose's Blue Sombrero is well-known for its selection of tacos. One of the favorite menu items is the chicken, bacon and chorizo taco plate ($9.99). Blue seafood burritos ($14.99) also are popular.
The Jose's menu and décor are peppered with trendy artwork, pop culture references and unusual sayings such as "Hip, cheap and no sleep" or "Never on Sunday," which actually refers to the restaurant's day of rest - Sunday.
"We are closed on Sundays so that employees can spend the day with their families," Vazquez explained. "People wish we were open, but the employees really appreciate it."
The atmosphere is fun (you'll get a Spanish lesson if you visit the restroom) and the food is plentiful. Just be sure you don't get in the way of the guacamole or sangria carts - hungry and thirsty patrons might not appreciate it.
The Basics
NAME: Jose's Blue Sombrero
ADDRESS:20371 W. Bluemound Road, Brookfield
PHONE: (262) 432-6667
WEBSITE:JosesBlueSombrero.com
FARE:Mexican
HOURS:11 a.m. to 10 p.m. Monday through Thursday, 11 a.m. to 11 p.m. Friday and Saturday; 11am-11am (bar open later, Monday through Saturday.)
PRICE RANGE: about $6 to $20
RESERVATIONS:Lunch, yes. Dinner, call-ahead only.
HANDICAPPED ACCESS: yes
GLUTEN-FREE OPTIONS: yes
LOOKING TO 'GRAB A BITE'?
"Grab a Bite" is an informal look at the food scene in the Wauwatosa, Brookfield and Elm Grove area by freelance writer Karen Waldkirch. Whether you're looking for a place for a date night or a casual spot for lunch, Waldkirch will be out and about scouting eateries for you. If you have a suggestion for a column, email her at kmwaldkirch@yahoo.com.