Kohl's Wild Theater opens Memorial Day weekend at Milwaukee County Zoo
Free conservation-themed performances a perfect show for kids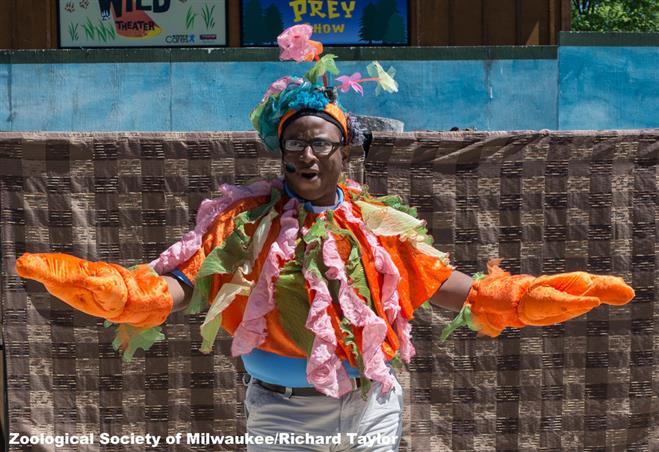 Kohl's Wild Theater returns Saturday, May 24, to offer free conservation-themed performances at the Milwaukee County Zoo — and this season, boasts a strong set of Wauwatosans.
Developed in 2011 through a partnership of Kohl's Cares and the Zoological Society of Milwaukee, KWT offers four main-stage performances a day at its amphitheater (right by the birds of prey exhibit), as well as short skits at animal exhibits with puppets, songs and dance. It also performs outreach to local schools and festivals like State Fair and Summerfest.
"A zoo is meant to both entertain, enlighten and give perspective. We want to take advantage of guests having fun but also learning about a variety of animals. A bunch of our shows focus on Wisconsin-specific conservation messages — animals that you can find in your own backyard," said Dave McLellan, theater program coordinator and Wauwatosa resident.
KWT is the largest zoo-theater program in the country, based on its show frequency and outreach, McLellan said.
Many of the professional actors hired by KWT are involved in downtown productions at Skylight Music Theater, In Tandem Theater, Milwaukee Opera Theatre and others.
"We are everywhere," said actress Jade Taylor, who lives in Tosa and is entering her senior year at the University of Wisconsin-Milwaukee. Taylor plays a tomato frog named Dory who adventures away from her terrarium in "The Wonderful Lizard of ooZ," written in the style of "The Wizard of Oz." The play teaches the importance of not releasing domestic pets into the wild when one of the characters, Winky, a western chorus frog, acquires a contagious fungus.
"You are really telling people things they've never heard before," Taylor said. "Not everyone has a soft-spot for animals so I think that putting a human spin on how an animal in the wild feels helps people relate to conservation."
Even though KWT is fairly new to the scene compared to its counterparts in other states, it is already finding ways to make its messages stick.
"We know that catchy tunes really hook people. Visitors sing them long after the shows," said James Mills, director of conservation education and Tosa resident. KWT works with professional playwrights and composers to create the scripts for actors.
KWT's main stage also is ready for opening day. It has recently received a new stage floor, over-hanging shade and backstage area for actors to prepare for shows.
KWT performances take place every day at 10:15 a.m., noon, 1:45 p.m. and 3:30 p.m. Shows are about 15 minutes in length. This season's lineup includes "The Legend of Hibernacula," which teaches why bats are important to humans, "The Wonderful Lizard of ooZ," "The Great Wisconsin Zoo-per Bowl," about Wisconsin's changing habitats, and "Lights, Camera, Arctic!" showing how actions at home can impact animals in the arctic.