Kowalski Bros. still rolling after all these years
Bowling supply, trophy biz sees renewed interest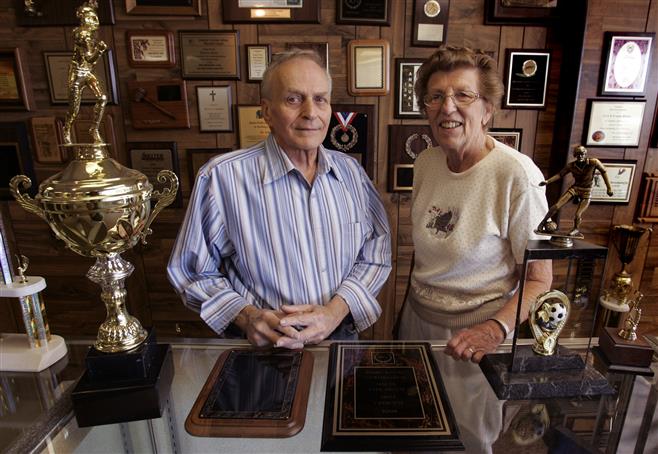 The bowling business isn't what it used to be, but it sure isn't striking out either.
"It's coming back in schools," said Russ Kowalski, who co-owns the family-run Kowalski Bros. bowling supply and trophy business with his sister-in-law, Susan.
From school gym classes to youth leagues, kids are bowling. And parents are watching, as Kowalski found out when he went to see his grand-daughter compete recently.
"It was like going to a football game," Kowalski said. "It's been a giant boon for the industry."
It's progress, even if the comeback isn't quite full-circle from the heyday of Milwaukee-area bowling - when blue-collar workers on three shifts kept lanes busy with leagues for 12 hours a day. It was the time when Kowalski's father, Peter, moved to the Brew City to be part of one of the bowling meccas of the United States.
"He went to a map, and there were two cities that had the largest number of bowlers per capita: Milwaukee and St. Louis. He opted for Milwaukee," Kowalski said.
So, in 1949, Peter Kowalski sold his bowling alleys in New Jersey and moved north with his brother, Vincent, to start Kowalski Bros. - one three outfits in the Milwaukee area to offer bowling balls, bags and shoes at the time.
In 1970, when Russ and his brother, Peter, took over and moved the shop to Wauwatosa, the second generation of Kowalski brothers added trophies and awards to the inventory.
"Art was my avocation. I just followed that little dream of mine. It started as a sideline. But, 30 years later, it's taken over to be equal to, if not more than, the bowling. I've had the best of both worlds," Kowalski said.
At 72, his days in the bowling business are numbered, Kowalski said.
"Everyone wants me to retire, but I don't want to retire. I still have the best of both worlds right now. I'm busy. And I love what I do."
If you would like to suggest a business to be featured in the Business Spotlight, send an email to news@cninow.com or call (262) 446-6643.
JUST THE FACTS
BUSINESS: Kowalski Bros.
ADDRESS: 3136 N. Mayfair Road
PHONE: (414) 453-2925
OWNERS: Russ and Susan Kowalski
INCORPORATED: 1949
TYPE OF BUSINESS: bowling supplies, awards and trophies