Library automates book sorting, may reduce staff to save costs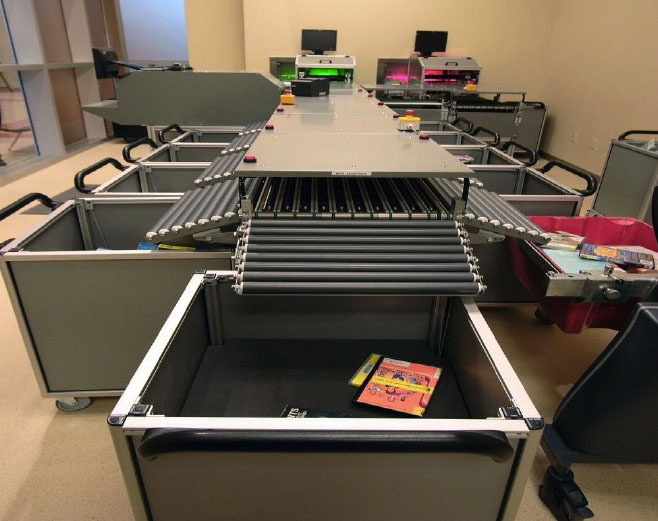 With the purchase of a $250,000 book-sorting machine, the Wauwatosa Public Library is hoping to make the process of returning and shelving books more efficient, possibly resulting in annual savings through a reduction of staff time.
"The history of automation in the library is a history of gradual staff reduction," Robert Trunley, assistant director at the library, wrote in an email. "We expect that trend will continue."
The Wauwatosa Common Council approved the purchase Tuesday, Aug. 5, with $120,000 coming from the city's 2014 capital budget. The Library Foundation is contributing to the remainder of the cost.
Trunley said the library plans to install the machine in September in the circulation workroom behind the checkout desk. Patrons returning materials can drop them through a slot in the stone wall of the workroom, but they won't be able to see the machine.
The automated sorter, manufactured by 3M, will pull the materials along a conveyor belt through a scanner, which will check in the materials and sort them into seven bins for different categories such as picture books or CDs. The machine will issue a printed receipt for all items it takes in.
3M also manufactured the self checkout stations in the library and is under agreement to repair or replace any problems with the new equipment.
The change comes in a time of budget constraints.
As city staff develop the 2015 budget, they have asked city departments to collectively reduce their expenditures from property taxes by $250,000. City Hall departments, which include the library, were asked to reduce their share by $52,000 for 2015 and $42,000 for the following year.
Finance Director John Ruggini said it is unclear how much those cuts would affect the library, as some of the reductions could come from other departments in City Hall.
"The budget is still in development," Ruggini said. "We're still working through what would be included in that $52,000."