Wauwatosa Mayfair Rotary provides water for distant nation
Sri Lanka village gets better well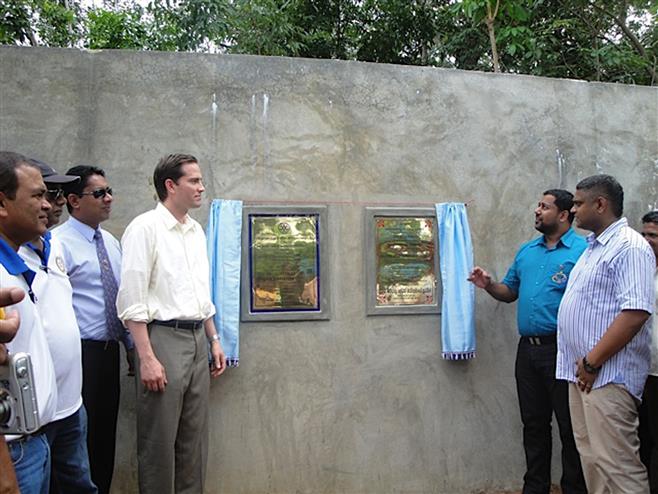 In Sri Lanka, an island off the southern tip of India, in a little village called Walallgoda, 100 families are drinking water brought to them courtesy of a local Rotary club and its partners.
Until the middle of this year, residents of Walallgoda, carrying buckets and jugs, walked along a narrow, winding jungle path a mile or more - a 45-minute trip - down a hillside, to a well beside a river. They lowered their containers into the well with a rope or pole, filled them up, and walked back up the hill with their now-heavy containers.
"I'm in charge of international projects for the Wauwatosa Mayfair Rotary, so we were kind of looking for a project where we had some kind of connection to the country, and, essentially, I found the project online, on the Rotary's web site," said Christopher Mitchell, a local financial adviser.
"We kind of have a theme … that comes through International, and one of them was water, worldwide, getting water to villages, sanitation, wells, things of that nature," said Jon Klicka, a dentist and former president of the Mayfair club.
Because Mitchell's wife, Hashini, is Sri Lankan, they had contacts there, so the Walallgoda project was a natural choice. A relative who had recently retired to Sri Lanka "was able to be our liaison, because the location of the project is about half an hour from where he lives, so he was acting as kind of our second set of eyes and ears on the whole thing," he said.
It took more than two years to bring the project from discussion to fruition.
The Mayfair club raised about $5,433, and received additional funding from its Rotary district and the International office. It enlisted the aid of a club in Sri Lanka, which contributed both funding and local management. The total cost was about $20,000. Village residents were involved in the work, and one woman contributed land that made the project possible.
A modern well replaced the old well, a pump was installed, and a pipeline laid to move the water to the village, where a water tank and spigots serve the residents. The regional government extended an electrical grid to power the pump. The electricity also was extended to benefit a second village in the area, serving a total of about 1,000 people in Walallgoda and its neighbor. Mitchell and his wife and daughter, Amaya, travelled to Walallgoda to inaugurate the water system earlier this year.
The Wauwatosa Mayfair Rotary Club has about 33 members, and raises funding for international efforts and local needs, including high school scholarships, a food pantry, the Ronald McDonald House, and other causes, said Chris Zirbes, a former president of the club.
Wauwatosa is also represented by the Rotary Club of Wauwatosa, which at a summer fundraiser collected $6,000 for the benefit of the Hunger Task Force, and raised $500,000 for the Rotary Performance Pavilion in Hart Park in 2009.
Sri Lanka, known as Ceylon before 1972, is an island nation of about 20 million people, in a land area about the size of West Virginia. It has a per-capita income of less than $3,000, according to online sources, and is known historically for the export of tea, coffee, rubber and coconuts. Mitchell said the people of Walallgoda live in houses constructed of cinderblocks, with corrugated roofs, and many make their living by selling produce and other wares, and by subsistence farming.
"For a club our size," Klicka said, the water initiative "was a very successful project. I think it touched a lot of people."