Longfellow Middle School dedicates theater to Lois Weber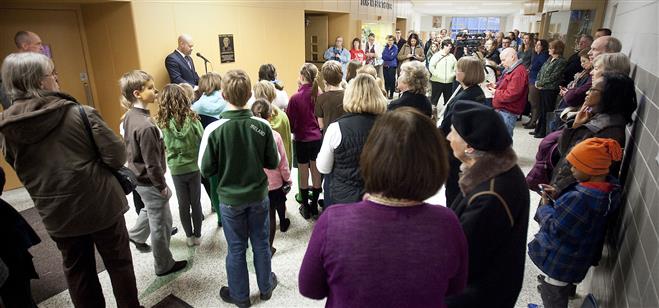 People who knew Lois Weber said she would not have approved a theater being named after her. But after Weber's faithful service to the Wauwatosa School Board and the Children's Theatre of Wauwatosa, Longfellow Middle School dedicated its theater to the esteemed public servant March 27.
About 50 community members attended the dedication for Weber, who died in September 2013. Weber was a Wauwatosa resident and graduated from Wauwatosa High School in 1948. She directed and ran props and costumes for the Children's Theatre for more than 40 years and served on the School Board for 37 years. She resigned from the board May 7.
Superintendent Phil Ertl, School Board President Michael Meier, Wauwatosa West Theater Director Adam Steffan and Curt Weber, son of Lois, were among the night's speakers and shared how Weber personally impacted them.
"It was never Lois Weber first; it was everybody else," Ertl said. "Even after numerous conversations, I don't think she ever accepted the fact that [the theater] would be named after her."
Steffan recalled working with Weber with Children's Theatre.
"She always had a way of working Children's Theatre into the conversation," Steffan said.
Weber also presented Steffan his high school diploma from Wauwatosa East.
"Lois Weber has left a most wonderful legacy," Steffan added. "We are enormously grateful."
After the ceremony, Children's Theatre performed "The Wizard of Oz" in the newly dedicated space.
"She wanted the focus on the children," Weber said.