Menomonee Parkway in Wauwatosa will be a 2014 project, Abele says
He eyes county land sales; praises Tosa development potential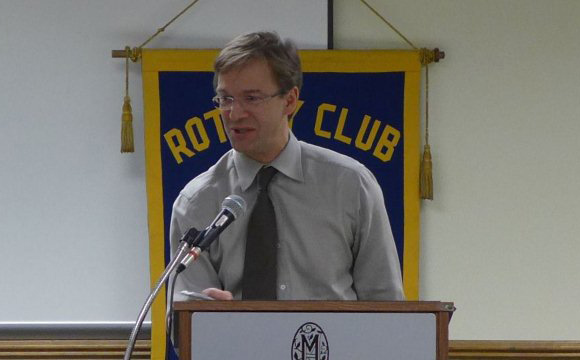 Milwaukee County Executive Chris Abele said last week that the Menomonee River Parkway has been targeted for rebuilding next year, and expressed interest in selling county properties in Wauwatosa, including property in the Research Park, in the Milwaukee Regional Medical Center, and at the Milwaukee County Fleet Management center at 10320 Watertown Plank Road.
"Looking at Wauwatosa, I don't see any part of the state that has the potential to grow faster — and not just great guns, (but) high value," said Abele, whose comments came during a meeting of the Mayfair Rotary Club of Wauwatosa.
The parkway project is an item in Abele's 2014 capital budget. It calls for a $3.2 million expenditure next year to rebuild the road from Burleigh to Congress streets, a distance of 1.9 miles. A second leg of the parkway, from Church Street to Burleigh, 2.7 miles, is proposed for renovaton in 2015, at a cost of $3 million.
A county assessment has indicated the parkway was in need of immediate renovation. Abele called it "overdue."
The budget has yet to be reviewed by the County Board, and won't be finalized until mid-November, said a spokesman for Abele.
"Here in Tosa, you're going to like a lot of this budget," Abele said at the meeting. "The Menomonee River Parkway, finally, we're taking care of that. There's $3 million in the budget — you're going to like a lot of it."
The project includes LED lighting, as well, he said.
County Parks planner Jim Keegan said design of the project had not moved beyond the conceptual stage, and that a public information meeting would be held in early November. He could not say if a separate bike path would be included in the project.
Lots of county land
Abele said his desire to sell land wasn't a formal plan or proposal, but something that made sense for the county.
"We pay to maintain a lot of stuff that we don't use, or don't use enough — operating costs and maintenance. We have a lot of grounds that we don't use, and I've talked for some time about the county getting out of the business of being a landlord, an absentee landlord," he said.
Abele made it clear that he wasn't talking about park land, but business properties.
"The county owns the Research Park," he clarified. "There was a time when that made a lot of sense, I think, and it helped catalyze a lot of business development."
While the Research Park is nearly fully developed, Abele said the county still pays operating costs and maintenance on property there.
He said the same was true of the Milwaukee Regional Medical Center, but the situation there was more complex.
"At any given time, if you ask the CEOs of the hospitals, 'What's the best use for the all land that hasn't been spoken for?' they all have some specific ideas."
Everyone understands the value of having a great medical center, he said, "but you're not getting tax base out of that. ... It's not creating revenue ... and then you have people who are understandably concerned about, hey, let's protect a little bit of the environment here."
Balancing interests
It's a balancing act, Abele said, adding that he feels part of the county's job is to work closely with Tosa officials on such development issues.
"I don't want to do anything unless, among other things, Tosa's cool with it — it's a net benefit for everybody," he said. "And so I spend a lot of time with your mayor and just say, 'OK, what's going to be the impact on Tosa?' Anything from a land transaction to the water utility, which we've worked together on, let's spend some real time to see if we can get to something."
Some of the land transfer that he envisions has occurred — notably the sale of the Innovation Campus land to the UWM Real Estate Foundation.
Abele saw Wauwatosa as in a great position economically.
With the improvement of the Zoo Interchange — "the biggest, busiest interchange" in Wisconsin — a world-class medical center, and a recovering economy, Abele said, "I think you could ask anybody in the state. There is about as much potential for economic development right around here as any place in the state."