Menomonee River Parkway opens for business
Temporary fix will have to do until weather warms up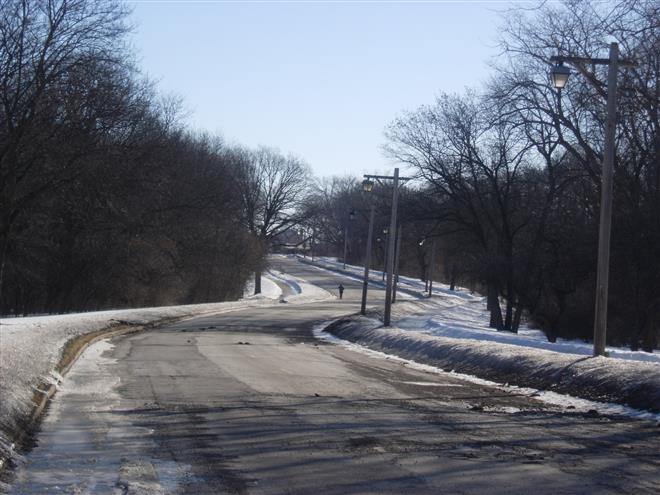 After a few days of cold-patching, the Menomonee River Parkway opened Tuesday after almost two weeks of closure between Hoyt Park Drive and Church Street after severe deterioration was causing drivers to leave their lanes to avoid the rough patches. Access from Charles Hart Parkway also was reopened.
With little choice, the Parks Department did nothing for days, waiting for warmer weather that would allow application of cold patch materials as a temporary fix.
Guy Smith, chief of operations for the Parks Department, said crews cleared the snow, swept the surface and were able to cold patch the road sufficiently for safe travel. He said he expected the temporary fix to last until the weather warmed up and a more permanent repair could be done.
Rebuilding on the horizon
An even more permanent upgrade is about 18 months away, when the southern leg of the parkway will be rebuilt.
The parkway was not built as sturdily as a regular city street, said Jim Keegan, chief of planning and development for Milwaukee County Parks.
"Those old parkways are not designed to the same standards as regular roads," he said.
A regular road has more asphalt, and more base underlying the pavement.
"It's a thicker product," Keegan said.
Designed in different time
The parkway was designed some 80 years ago for leisure and sightseeing outings, and, like other county parkways, is under the purview, not of the county's transportation department, but parks.
Increasing traffic, exacerbated by road construction, particularly the work on Watertown Plank Road, has driven more traffic onto the parkway.
A 2004 traffic study at the corner of Church Street counted 8,400 vehicles a day passing on the parkway, making it easily the busiest stretch of the road. Keegan said tougher construction may be a consideration as the reconstruction of the southern half of the parkway approaches, in the summer of 2015.
Diverted parkway traffic put pressure on surrounding streets, particularly Milwaukee Avenue, which runs parallel to the closed segment of the parkway.
The Wauwatosa Public Works Department placed temporary stop signs at the corner of Church Street, stopping east-west traffic on Milwaukee Avenue, to allow cars heading north on Church to cross. DPW Director William Porter said the extra stop signs were to be removed Wednesday.