Monarch habitat on the mend in Wauwatosa
Friends group, Eagle Scout rebuild home at Eschweiler buildings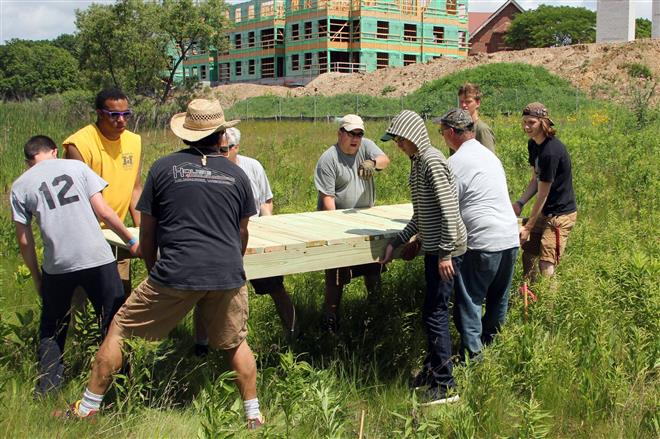 As trucks and construction workers have moved in and out of Innovation Campus in recent years, rerouting roads and erecting new buildings, a population of monarch butterflies has seen much of its local habitat uprooted.
The quiet area where monarchs used to roost, in the shadows of the vacant Eschweiler buildings, has recently been transformed as the Mandel Group builds the Echelon Apartments and the Department of Transportation has reconfigured surrounding roads.
Barb Agnew, president of the Friends of the Monarch Trail, said the original habitat for monarchs on the land is almost entirely gone, and the group is starting from scratch to rebuild it. But she also said she is the most optimistic she's ever been about the habitat, thanks to cooperation by Mandel, the DOT and the community.
"I think there's more hope than ever," Agnew said. "We are at the bottom working our way back up."
As the friends group looks to replant the area with roosting trees, milkweed and nectar plants for butterflies, Eagle Scout Spencer Zuberbuehler helped kick off efforts in a major way by putting in 1,400 plants of milkweed and perennials and building footbridges along the Monarch Trail.
Zuberbuehler, who graduated from Wauwatosa East High School this year, said he thought it was an important project to restore a natural area and allow people to enjoy it.
"I've always liked nature," Zuberbuehler said. "I like being outdoors, so it fit me really well, and it was really fun."
The project is also fitting for Zuberbuehler's troop. One of Troop 61's founders, Jim Neidhoefer, had a passion for butterflies and moths and collected more than 100,000 of them. He donated this collection, along with hundreds of volumes of rare books on butterflies and moths, to the Milwaukee Public Museum.
Agnew said she is confident in the future of the Monarch Trail because of its proximity to Highway 45. The location is what led to the disruption of habitat, but it's also why she thinks it will be secure for years to come because there is not likely to be development so close to the highway.
Agnew is currently applying for a grant from the National Fish and Wildlife Foundation to support further restoration work.
E-mail Newsletter
Your link to the biggest stories in the suburbs delivered Thursday mornings.

Enter your e-mail address above and click "Sign Up Now!" to begin receiving your e-mail newsletter Get the Newsletter!