Mount Mary University students gear up for CREO fashion show in Tosa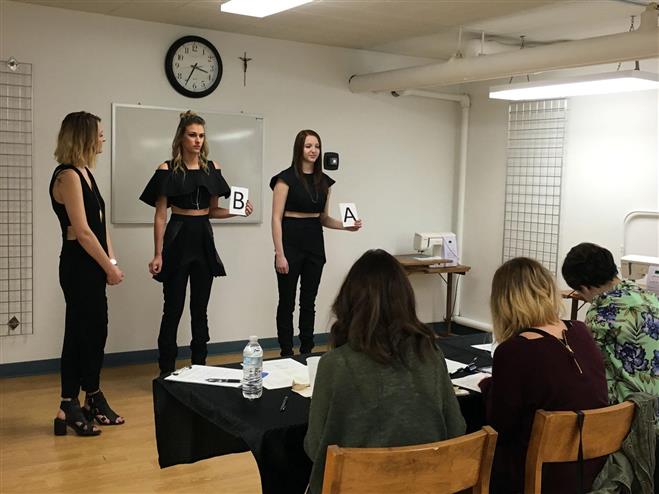 On a spring day in late April, tulips poked through the grounds on Mount Mary University's campus. Barring a few students who walked to class underneath the school's large stone arches, the campus was calm.
But inside an academic building, on the bottom floor, students and professors fervently tiptoed in high heels through the halls, making last-minute tweaks and darting in and out of makeshift fitting rooms.
It was Jury Day, a nerve-wracking event for budding fashion designers who present the garments they've spent months on in the hope of making the cut for the school's large CREO fashion show May 6, said Sandi Keiser, an instructor for the fashion show coordination class.
"They work tirelessly throughout the semester, especially the two weeks before the show, to make sure that the designer garments will be shown in the best possible light," she said of the students.
The designers present their garments to a panel of industry professionals, who critique the pieces. This year's panel had representation from Harley-Davidson, Kohl's and Mini Classy, a high-end kids' streetwear brand.
How it works
The school's fashion department is divided into two majors — design and merchandise management. The CREO fashion show ("CREO" is taken from the Latin word for "to make, create and produce") is a collaboration of both majors.
Presenting their pieces to industry professionals on Jury Day, while intimidating, offers a real-life look at the pressures of the fashion industry, Keiser said.
"Once designers have cleared that hurdle, they can adjust hems and do final finishing to accommodate their models," she said. "The show itself is a celebration of their accomplishments."
This theme of this year's show is "Synergy." More than 75 garments will be featured.
Real-life experiences
Courtney Raymond, a senior at Mount Mary University, was fresh from presenting to the judges when she paused for a moment.
"It's really exciting to have feedback," said Raymond, who added that the process of designing a garment begins with "a lot of sketching."
Raymond has worked on her pieces for months, which is common among the students, said Keiser.
"The fashion show coordination class is a three-credit class in the spring semester that meets for four hours a week," she said. "Students put in an average of 65 to 75 hours outside of the class to pull the show together."
"Each student is required to put in at least 85 hours for an 'A,' but many dedicate themselves above and beyond this number," Patricia Kuehnl, another instructor for the fashion show coordination class, said.
IF YOU GO
Who: Mount Mary University students
What: CREO Fashion Show
Where: Father Robert V. Carney Performing Arts Center, Pius XI High School, 135 N. 76th St.
When: 1, 5:30 and 8 p.m. May 6
How: Ticket prices vary, visit mtmary.edu/creo for information or call (866) 811-4111.
E-mail Newsletter
Your link to the biggest stories in the suburbs delivered Thursday mornings.

Enter your e-mail address above and click "Sign Up Now!" to begin receiving your e-mail newsletter Get the Newsletter!