Puhl's hardware found a home in Wauwatosa, and it stayed in the family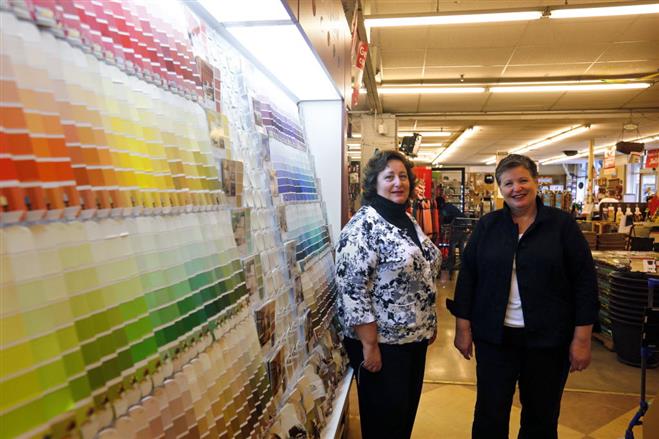 Nancy Puhl and Janice Puhl-Przybylski did their duty, working weekends and summers at Puhl's True Value.
But they never expected to take over the family hardware store.
"If you had asked me 40 years ago what I would be doing today, this would not be it; I was in college for an art history major," said Puhl, who co-owns the nearly 40-year-old franchise with her sisters, Janice Puhl-Przybylski and Carolyn Fox. "But I love it. You never know. Life happens."
Perhaps it shouldn't have been a surprise. The Puhl sisters (and their brother Larry) were involved with the store almost from the time their father, John, opened it as Coast to Coast Hardware in 1972 in Greendale.
A couple of years later, the store became Puhl's True Value. By 1980, they had added the Wauwatosa location. They also owned a store in Mukwonago.
As the business grew, the Puhl sisters still sought their fates elsewhere; Puhl-Przybylski was an executive secretary for the Associated Press, and Puhl was an executive secretary for Marquette University.
"I always say that, for 10 years, I had a real job downtown," laughed Puhl, who still worked part-time at the store, despite her full-time gig.
In 1996, a change in management at the Greendale business complex where the original store was located led the Puhl's to close that location. And big box competition led the Puhls to shutter the Mukwonago store in 1999.
Nancy and Janice knew they could follow their brother, Larry, when he left the family franchise with the closure of the Mukwonago store. Instead, they chose to stay, largely because of their employees, including store manager Don Seeger, who "came with the package" when John Puhl first opened the store. Seeger retired only three years ago.
"We consider ourselves a small family here," Puhl said. "We've got everyone from 16-year-old high school students to a 90-year-old gentleman who fixes our screens and windows."
Although they signed on for the long haul in 1999, the Puhl sisters didn't officially inherit the shop until May 2007, when John Puhl died after a 10-year struggle with Alzheimer's. Today, Nancy and Janice run the store, with input from their other sister, who lives in California.
"We're very service-oriented and community-oriented," Puhl said.
The store sponsors two Little League baseball teams, the Wisconsin Humane Society's Feasting for Fido, as well as virtually every church, school and library in the city limits. And they make room for the Scouts to sell cookies, popcorn and Christmas trees.
"We limit it to the Tosa community," Puhl-Przybylski said.
Puhl said, "We feel it's important to give back to the community. Because, without the community, we wouldn't be here."
JUST THE FACTS
Business name: Puhl's True Value
Address: 1525 N. 68th St., Wauwatosa, WI
Website:www.truevalue.com/puhls
Phone: (414) 476-0833
Co-owners: Nancy Puhl, Janice Puhl-Przybylski and Carolyn Fox
Incorporated: 1972
Type of business: hardware store
Pearls of wisdom: "We feel it's important to give back to the community. Because, without the community, we wouldn't be here."