Ronald McDonald House in Wauwatosa to double number of families it serves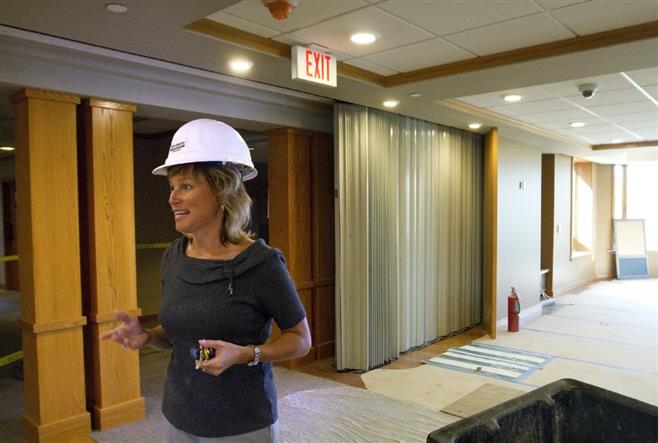 With carpenters adding final touches and volunteers scrubbing new kitchen counters, the expansion to the Ronald McDonald House is almost done, allowing the facility to host 32 more families of sick children as they seek treatment at Children's Hospital and other nearby hospitals.
The $10 million expansion project, which broke ground in April, brings the house's total number of lodging rooms to 70. It also includes a new music therapy room, fitness center, play area, laundry room, kitchen areas and computer lab.
Ann Petrie, CEO of Ronald McDonald House Charities of Eastern Wisconsin, said the expansion is a reaction to growing need. The house constantly has a waiting list, and last year had to turn away more than 800 families.
Located just across Watertown Plank Road from the Milwaukee Regional Medical Center, the house is an ideal place for families to stay close to their sick kids on a short-term or long-term basis. A new pedestrian bridge built by the state Department of Transportation makes the location even more advantageous by connecting the house's new parking garage to the medical campus.
In addition to the convenience, Petrie said families appreciate the house for the company of other families experiencing similar situations.
"We offer so much to families in terms of companionship," Petrie said. "Even if you have a great support network, they're not going to get it as much as other families going through the same thing. Some families stay in touch for years."
The Ronald McDonald House does not require guests to pay. A suggested donation of $10 per night doesn't cover the roughly $100 cost per night of a family's stay. Its operation depends heavily on donations.
For the expansion, the house received about $8.4 million in donations, with a sizable chunk of that coming from owners and operators of regional McDonald's restaurants, including the one on North Avenue in Wauwatosa. The remainder of the cost came from the organization's savings.
"We knew for awhile we were going to need this," Petrie said.
Petrie said the house works closely with Children's Hospital, where 95 percent of its guests have sent their kids, to forecast the needs of families. She said she thinks the expansion will reduce or eliminate the house's waiting list for a few years. And if demand continues to grow, she said, "we'll see what the future holds."
The Ronald McDonald House plans to welcome families into the expanded area Sept. 29.