So, just how green is Wauwatosa's mayor?
Inspection gives her home good marks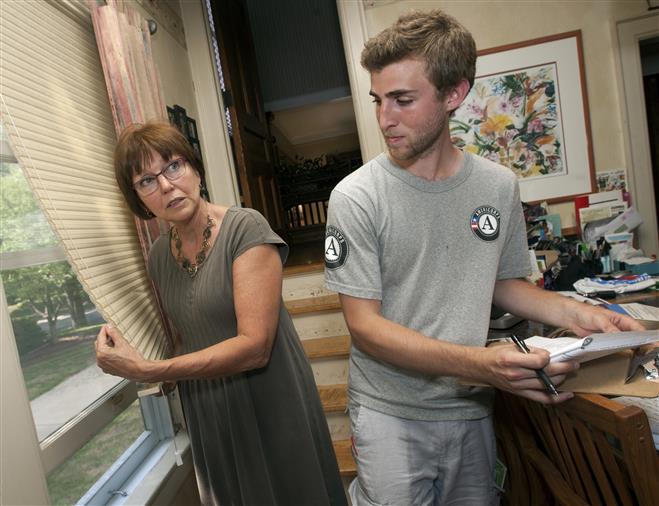 From the water heater in the basement to the upstairs bathroom showerhead and the plantings in the backyard, a group of college students assessed Mayor Kathy Ehley's home to determine how far she goes to conserve energy and provide tips to make her house even more efficient.
Ehley had named sustainability initiatives as a priority in her campaign for the mayor's seat. So when interns from the University of Wisconsin-Milwaukee chapter of the Energy Service Corps - a joint project of AmeriCorps and Wisconsin Public Interest Research Group Foundation - came calling, she decided to "lead by example" and allow them into her home.
"No matter how conscious we are about conservation and reducing our carbon footprint, it always helps to have an outside source take a look," she said.
Many people think of AmeriCorps as a disaster-relief organization, but education is also a big part of the government-backed organizations effort, intern Michael Fischer said. Wauwatosa residents can sign up for a free home assessment online at energyservicecorps.org/schedule.
For this program, interns picked a community - Fischer chose Wauwatosa - where they conduct free energy assessments by request, canvass door-to-door to doing energy surveys and teaching local children about conservation.
On June 30, Fischer, with the help of fellow intern Anthony Meyer and campus organizer Brittany Faust assessed Ehley's home, giving it high marks for energy efficiency.
Aspects that they found especially helpful were the reliance on cross-ventilation rather than air conditioning. She has a small window unit in one bedroom, and otherwise uses honeycombed window shades that block out heat and keep cool air from escaping.
"This summer has been brutal," she said, adding that the only summer she recalls being hotter happened in the 1980s when her daughter's swimming caps had melted.
A screened-in porch and shade trees on the home's south side help reduce the heat coming in, Fischer said.
"I reduced my carbon footprint by getting rid of the lawn in the back," Ehley said.
She replaced the grass with plantings that don't need much watering, so there's only a small strip out front to mow.
They also applauded that she had replaced about half the incandescent light bulbs with compact fluorescent bulbs, especially in the most heavily used areas of the house. However, they encouraged her to continue adding CFLs as the old bulbs burn out.
"It's a white light that uses a quarter of the energy of incandescent," Fischer said.
Her Energy Star appliances are efficient and, thanks to higher U.S. standards, just about any appliance less than 10 years old offers at least moderate efficiency, Fischer said.
Faust checked the refrigerator temperature, which should be between 38 and 42 degrees, with the freezer set between zero and 5 degrees, she said.
In the basement, the water heater temperature was checked to make sure it didn't top 120 degrees.
"If the water coming out of the faucet gets too hot too quickly, then the temperature is higher than it needs to be," Meyer said. "Any hotter and children could scald themselves."
Ehley showed the interns a few of her energy-saving tricks, such as a homemade door buddy to block cold air from seeping under the door in the winter, dryer balls rather than softener sheets and a toaster/confection oven to cook meal for two.
She also fills the dishwasher completely and instead of using the heated dry cycle, flips the door open to let dishes air dry.
"Years ago they used to call this frugal," Ehley said. "But now it just makes good sense."
The students did have a few suggestions for improvement. For example, they suggested turning off more appliances and power strips connecting electronics when they're not in use.
When Ehley voiced concern about having to reprogram her television or other electronics each time they're plugged back in, Faust recommended a smart power strip, one that allows continuous power to one outlet while the others turn off.
They also recommended weather-stripping the front door to better seal it, and re-insulating the attic because insulation tends to settle over time and becomes less effective.
If no one is in a room, fans should be shut off. It's the sensation of the wind on the skin that cools as fans don't actually lower temperature, Meyer said.
He also suggested using plastic plugs - like those for child-proofing - that will keep air from seeping through outlets.
Finally, they suggested purchasing a water-heater insulation blanket and insulating pipes coming out of the water heater so the heat isn't lost in the basement.
"There are a lot of quick and simple solutions," Faust said.