'Tarzan' takes flight at Wauwatosa East
Students have been physically preparing for the performance since November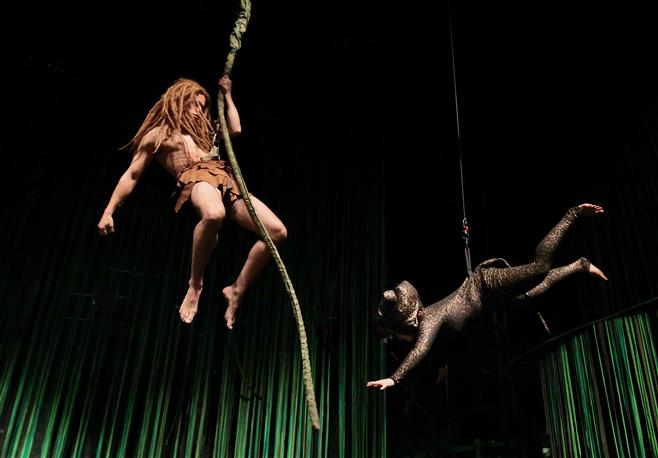 Wauwatosa — Kate Sarner walked through hallways of Wauwatosa East High School's theater department, giving directions to students, answering questions and biting into her apple.
Students warmed up their vocals, some stretched out their limbs and others worked on the theater's stage during an after-school rehearsal.
It was organized chaos, but it was also just over a week until show time.
Opening night of the Wauwatosa East Players' "Tarzan: The Stage Musical" is May 1.
"It is going to be exceptional," said Sarner, who came to the school with experience as an actress, singer and dancer in New York City for six years.
"These kids have worked so hard."
The nearly 200 students throughout the district in third through twelfth grade involved in the musical's cast and crew have been rehearsing since November, Sarner said.
Time-honored tale
The musical follows the story of an infant boy who washes up on the shores of West Africa and is taken in and raised by gorillas who name him Tarzan. The boy grows up, striving for acceptance by his ape father until he encounters humans who visit the jungle on an expedition. Tarzan's ape and human allegiances begin to clash.
Based on the 1999 Disney film "Tarzan," the show features a student band, heavy percussion and music by rock artist Phil Collins.
Senior Luke Mizer, 19, was cast as adult Tarzan (students John Koch, 11, and Ryan Hambrook, 10, were cast as a younger Tarzan). Mizer, who wears solely a loincloth for much of the musical, said great efforts have been made to effectively play the part of a man raised by gorillas, including a trip to the Milwaukee County Zoo where students studied the movements and interactions of primates.
"I focused on the facial movements of the gorillas," Mizer said of the zoo trip. "Their faces are intense, but also calm."
Immediately after receiving the role, Mizer said he ate clean and began routine workouts.
"I couldn't be out of shape and be a gorilla," he said.
Fit to fly
Mizer wasn't the only one physically preparing for the role. Crew member and sophomore Mairyn Schoshinski, 15, has worked toward a goal of lifting 100 pounds and she won't ever appear on stage.
"We're in charge of flying people," said Schoshinsk-i, who is one of two students in charge of a team of 10 that hoists cast members up into the air throughout the musical. "We've been working out since we started. I'm not worried about my crew lifting anyone."
Students will be "flying" at various points in the show, said Sidney Rakowiecki, an 18-year-old senior who plays Jane, a bright-eyed, Victorian woman full of thoughts and ideas who finds a sense of belonging in the jungle, she said. At one point in the performance, Rakowiecki's character kisses Tarzan midflight.
"It's easy to do the work," said Rakowiecki, who added that despite the sometimes long after-school rehearsal hours, there's no place she'd rather be. Rakowiecki plans to study theater in college.
And working with students of all ages does pose its challenges, she added.
"The little kids are a handful, but they bring a lot of energy," she said. "There's an intense energy I feel from the entire cast."
"Tarzan: The Stage Musical" opens May 1. Tickets can be purchased online at tosaeasttheatre.com, by calling ShowTix4U at (866) 967-8167 from 11 a.m. to 7 p.m., or at the door with cash or check.
IF YOU GO
WHO: The Wauwatosa East Players
WHAT: "Tarzan: The Stage Musical."
WHERE: Dale K. Hidde Theatre, 7500 Milwaukee Ave.
WHEN: May 1, 2, 8, and 9 at 7:30 p.m.; May 3 and 10 at 2 p.m.
HOW MUCH: Tickets are $18 for adults; $15 for senior citizens and students; $12 with an activity pass and senior gold pass holders; $10 for children age 10 and under.
E-mail Newsletter
Your link to the biggest stories in the suburbs delivered Thursday mornings.

Enter your e-mail address above and click "Sign Up Now!" to begin receiving your e-mail newsletter Get the Newsletter!