Tongue-in-cheek fly in Wauwatosa East production of 'Thoroughly Modern Millie'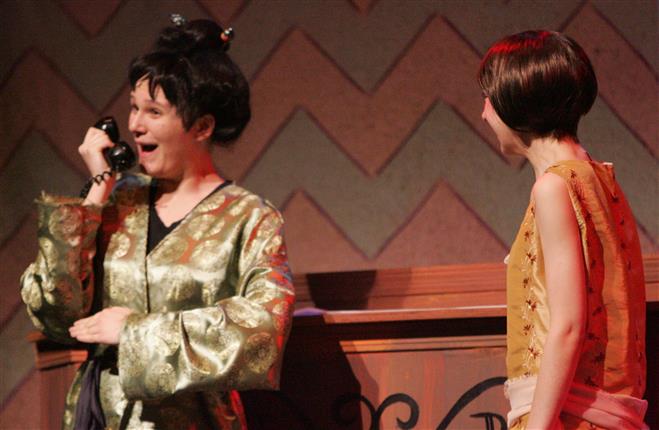 Kate Sarner has one piece of advice for people who attend Wauwatosa East High School's spring musical, "Thoroughly Modern Millie." Read the director's notes.
In doing so, attendees will learn that "Thoroughly Modern Millie" is a comic pastiche, "a half-step below a parody" to poke fun at musical theater, said Sarner, theater director. So if the humor seems offensive — poking fun at human flaw and highlighting stereotypes — it's supposed to.
Set in the roaring 1920s, "Millie" is the story of a small-town girl, Millie Dillmount (played by senior Dana Strothenke), who moves to New York to marry for money, instead of love. Problems arise when Millie checks into a hotel owned by the evil Mrs. Meers — whose actual name is Daisy Crumpler — the leader of a white slavery ring in China (played by junior Grace Koch).
The whole production will be starkly different from "Godspell," Tosa East's fall show. Whereas "Godspell" unveils deeply spiritual themes that transcend religion or nonreligion, "Millie" is a tongue-in-cheek experience meant to entertain, while celebrating musical theater.
Lavish drop-waist dresses, ornate lace, minx and era-appropriate attire will show the financial prosperity of the 20s, while hit musical numbers "Thoroughly Modern Millie" and "Forget About the Boy" energize cast and crew to play and have fun with their roles.
"The joy in this piece comes from the joy of creating musical theater," Sarner said. "[Everybody] loves to play, and that is where their energy, soul and excitement comes from in this play."
But that's not to say there won't be absurdity.
Villainess Mrs. Meers is a politically incorrect stereotype of a Chinese proprietress. Her absurdity, Sarner said, is meant to reveal to the audience that humans can be judgmental.
"Many productions have taken offense to her character but the political incorrectness is actually written into the script," Sarner said.
Koch as Mrs. Meers switches dialects in the snap of a finger while moonlighting between her and Daisy Crumpler.
Strothenke as Millie said she has had to "step it up" and find confidence in herself to play the lead. This is Strothenke's first lead role since joining Tosa East theater as a self-described shy freshman.
"There's never anything subtle about [Millie]," Strothenke said. From getting her purse stolen upon her arrival in New York to getting drunk at a speakeasy and falling unexpectantly in love with a man, Millie's journey is one of self-discovery.
And for seniors, what better way to graduate, Strothenke said, while examining her own personal growth as a participant in student theater.
Katie Piel, junior stage manager, shared a similar experience.
"I never leave the show the same way I came in," Piel said. "The show changes everybody. A lot of people come to theater to find themselves — and a lot of time, they do."
"It's definitely a good show to leave on," Strothenke added.
IF YOU GO
Where: Dale K. Hidde Theater, 7500 Milwaukee Ave.
When: 7:30 p.m. March 28, 29, April 4, 5 and 2 p.m. March 30.
Cost: Adults $15, senior citizens (62 and older) and students with ID $12, seniors with gold pass and students with activity pass $10 and children 12 and under $8. Purchase tickets online at tosaeasttheater.org, in the main office at Tosa East or at the box office at least 45 minutes before the show.