Wauwatosa alderman proposes using street parking for outdoor seating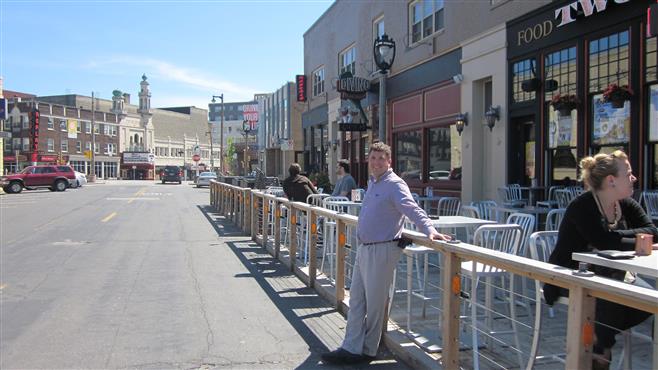 Looking to expand outdoor seating options, Alderman Bobby Pantuso has asked city officials to consider an ordinance that would allow restaurants to put out tables on street parking spots, for a fee.
Known as parklets, these dining options have already shown up around the city of Milwaukee at establishments like Two Bucks, Divino Wine & Dine and Club Charlies.
Although the idea would chip away at the city's parking supply, Pantuso said he thinks the loss would be worth the potential to seat more customers.
"One argument again it is it takes up parking space, but a parked car doesn't make as much money for a restaurant as turning four tables would," he said.
Pantuso also said parklets could help relieve sidewalk congestion at restaurants that currently have seating in the public right-of-way. And as temporary fixtures, they could be rolled out in May, when more people are coming by bike and foot, and put away in September to allow parking again.
If the city chooses to allow them, Joey Carioti, general manager at Cranky Al's on North Avenue, said his business would be interested.
"North Avenue is such a busy place, and I know parking is scarce, but the parklet would give more of a draw for people to come down and sit outside, especially in the summer, and not have to worry about people walking through them," Carioti said.
City Administrator Jim Archambo said the next step will be for city staff to research the idea. Then it could go to a city committee, likely community development, and eventually to the common council.